Dieng ejected as Wolves crush Suns, 118-91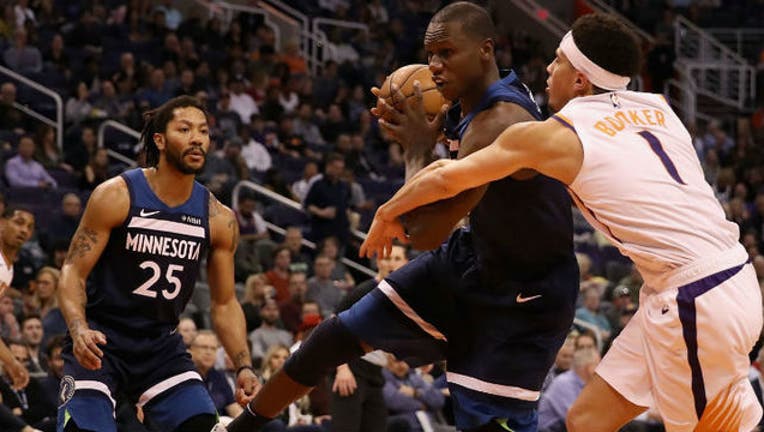 (FOX 9) - For the second time in three nights, the Timberwolves beat the Phoenix Suns 118-91 in a game where they were never really threatened in the second half.
But it was the ejections of Wolves center Gorgui Dieng and Suns guard Devin Booker that had people talking after the game. Dieng played just 5 minutes, 27 seconds in the win and didn't score, but got into a scuffle with Booker during the third quarter.
Dieng got a rebound and while Booker was trying to get a steal, caught him with an elbow to the side of his head. Booker wasn't happy about it, and got into it with Dieng during a sideline inbounds play. He took a swipe at Dieng with his left hand, the two had words and had to be separated.
After a review, game officials ejected both. Dieng was left after the game wondering why he was ejected after Booker took a swipe at him. Both players continued jawing at each other before both sprinted off the floor, and their chatter suggested they might meet in a tunnel behind the court to continue the spat.
Booker was grabbed by his shorts to be held back by a Phoenix team administrator.
Dieng said postgame, "I just wanted to exchange jerseys with him."
It became the story of what ended up being a 27-point road win. It was the Wolves' biggest road win since beating Utah 107-80 in March of 2017. It was also their fourth-largest road win in team history.
Karl-Anthony Towns scored 25 points and grabbed 18 rebounds for his 30th double-double of the season. He added a season-high seven assists. Jerryd Bayless, getting minutes with Tyus Jones and Jeff Teague both out injured, scored a season-high 14 points and adding seven assists. Josh Okogie had his first 20-point game of the season with 21 points.
The Timberwolves had 30 assists on 45 made shots, marking the fifth time they've had at least 30 assists in a game. They're 4-1 in those games.
The Timberwolves (23-24) are off Wednesday before facing the Lakers in Los Angeles Thursday and the Jazz in Utah on Friday. Minnesota is currently two games out of a playoff spot, with both the Lakers (25-23) and Jazz (26-22) ahead of them.