Did Kirk Cousins farewell letter narrow search to Vikings and Jets?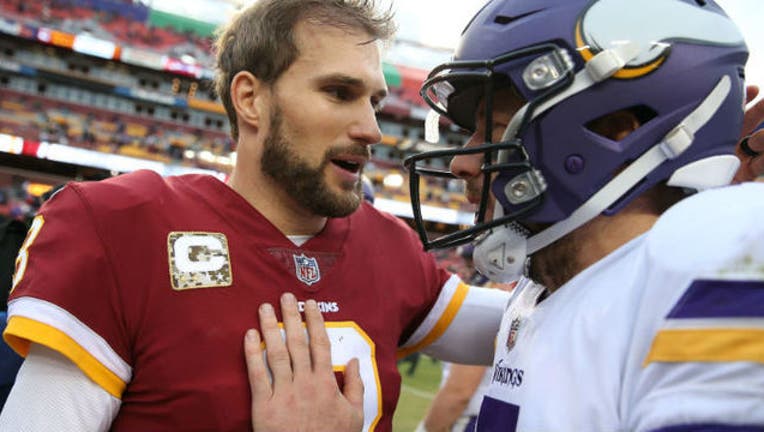 article
(KMSP) - Kirk Cousins is saying goodbye to Washington as he prepares to say hello to his next NFL city. As Cousins has said, this will be the first time in 11 years, when he enrolled at Michigan State, that he will have a choice in where he plays football.
Many NFL insiders expect the Minnesota Vikings to be Cousins' next stop, and could there be a hint in Cousins' blog. Cousins added a number of tags to his blog post, including "Vikings" and "Jets."
The Vikings went to the NFC Championship last season with Case Keenum under center. Keenum is now a free agent, as is Vikings opening week starter Sam Bradford and the quarterback the Vikings expected to build their future around -- Teddy Bridgewater.
"As I'm about to make one of the bigger decisions of my life, I'll be saying goodbye to my familiar life as a Redskin. After calling Washington home for the past six years, the team has decided to move on to another option and, in turn, my family and I will be moving on as well," Cousins wrote. "I will forever be grateful to Mike Shanahan for taking a chance on me in the 2012 draft. At the time, many people saw his selection as foolish. Time proved otherwise and taught me that there are no guarantees in this business -- if you work hard and learn from your mistakes, good things can happen. For the first time in 11 years I will participate in choosing where I play. Having said this, I would not trade the past decade for anything."
"Just like you never fully leave your hometown -- you never fully leave your first NFL team, especially after six seasons," Cousins added." My family and I will always have a piece of Washington deep in our hearts. I arrived as a single, 23-year-old from the Midwest -- with a lot to learn and prove. I now leave as a husband of four years to my wife, Julie, and a father to my son, Cooper -- but still with lots to learn and prove."
Read "Farewell, Washington" at https://kirkcousins.org/blogs/blog/thank-you-washington