D'Angelo Russell says the Minnesota Timberwolves held him back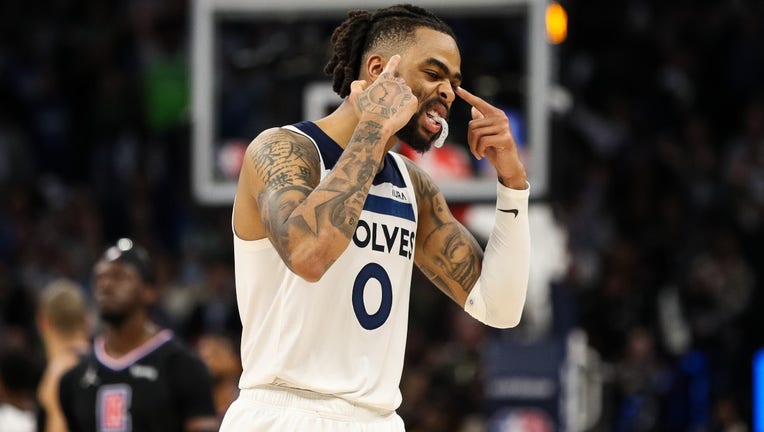 article
MINNEAPOLIS (FOX 9) - D'Angelo Russell is now with the L.A. Lakers in the Western Conference Semifinals, but had some interesting things to say about the Minnesota Timberwolves after a 127-97 win Saturday night.
Russell scored 21 points on 8-of-13 shooting, including 5-of-8 from the perimeter, in the win over the Golden State Warriors. In a Q&A with Sam Amick of The Athletic posted on Sunday, Russell was asked about his time with the Timberwolves.
"I felt like I was held back there, honestly. I just kind of had to be the third option. Some nights, I was a little more aggressive and was kind of being held back. So to be in a position now where I can kind of thrive and be aggressive and it gets guys going, and where the team reflects off of anybody with that type of energy, it's fun," Russell told Amick.
The Timberwolves dealt Russell to the Lakers in February as part of a three-team trade that brough Mike Conley Jr. and Nickeil Alexander-Walker to Minnesota. Russell, whether he liked it or not, and he obviously didn't, was the third option in Minnesota behind Karl-Anthony Towns and Anthony Edwards.
They originally traded for him in 2020 in the deal that sent Andrew Wiggins to the Warriors. This was the same Russell that played poorly enough in the 2022 playoffs that Chris Finch put him on the bench in the fourth quarter of an elimination game, opting at the time to play Jordan McLaughlin.
Amick asked Russell if he could sense before the trade if it was coming. He's making north of $30 million annually and is set to be a free agent after this season.
"I felt they couldn't pay me, so I kind of expected it. I felt like I was gonna outplay my (Timberwolves) offer, whatever they wanted to offer me, and then I'd be in a position where I'd have to make a decision," Russell said. "And I just kind of held my cards tight and let the basketball Gods take over."
Russell's time with the Timberwolves was hot and cold. He had times where he took over offensively, and others where he struggled to make shots and commit turnovers at critical times.
He was also asked about playing in a scrimmage with reserve players after a shootaround in Denver in January. He didn't hold back.
"I'm a killer, man. I'm a bird that needs to fly, and I couldn't really fly there. They put me in a box that I was successful in, but I did that for confidence," Russell told Amick. "I enjoy just playing, and I would play some of my best games in that (run), because I didn't really have a rhythm (in the real games). I had to kind of cater to guys. And respectfully, I was with it because we were winning. But I know what type of player I am."
Conley, now the better fit in Minnesota with Rudy Gobert, is under contract for one more season with the Timberwolves.