Angry Vikings fans respond to Cousins tweets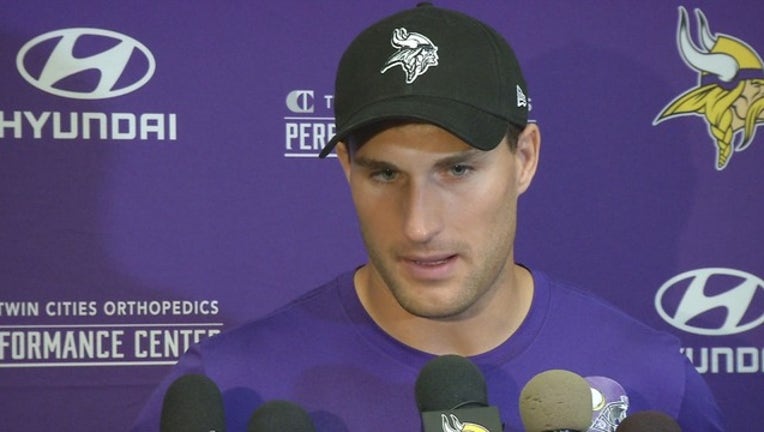 MINNEAPOLIS (FOX 9) - Minnesota Vikings quarterback Kirk Cousins has not had a good week on Twitter.
It was two posts in the last six days in particular that had Vikings fans itchy to push the trigger finger on the tweet button with both their ire and sarcasm for the quarterback.
The 2018 season didn't fall entirely on the $84 million quarterback, but the Vikings missed the NFC Playoffs with an 8-7-1 record in Cousins' first season donning purple. Cousins finished with nearly 4,300 yards and 30 touchdowns, but struggled in games that mattered the most.
Last week, Cousins tweeted about looking forward to the 2019 season and offered to do a giveaway on Twitter. Fans responded with "give your money back" or "don't give the ball away."
On Monday, Cousins took what some fans interpreted as a shot at Minnesota weather on Twitter. He's apparently in Miami, Fla., and tweeted to LeBron James that he understand why he left Cleveland for Miami after being in the warm weather for five minutes.
Some of his mentions included "Stay there, I'm sure the Dolphins have a job for you" and "Please stay in MN. The Packers fans will thank you."
Minnesotans get testy when it appears you're not "one of us" and you might be complaining about the weather. But Cousins knows winters, he grew up in Michigan and played quarterback at Michigan State.
It doesn't help Cousins that some of his worst games as a Vikings quarterback came in crucial circumstances. With the season on the line against the Chicago Bears, Cousins passed for just 101 yards in a 24-10 loss that eliminated Minnesota from playoff contention.
Cousins also had three straight games with less than 200 yards passing against the Patriots, Seahawks and Dolphins. The Vikings went 1-2 in that stretch. Again, the Vikings' failures in 2018 aren't all on Cousins, but somebody has to take the blame when a team has such high aspirations and falls woefully short.
Cousins hopes another year with many of the same players returning to the offense bodes for better results in 2019.