10 best PJ Fleck-isms from introductory press conference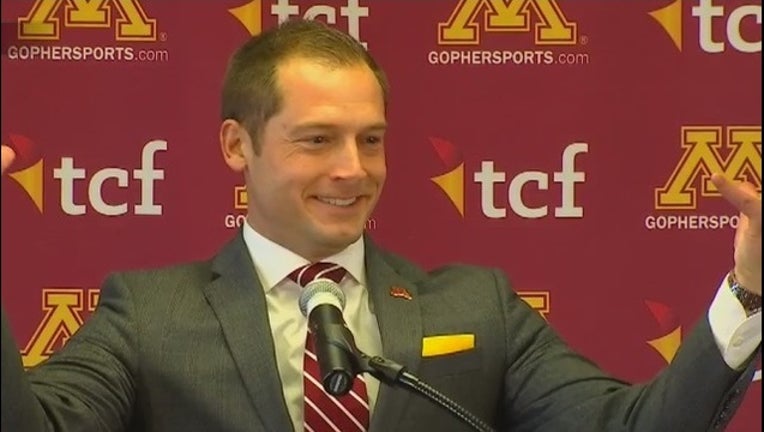 MINNEAPOLIS (KMSP) - PJ Fleck is a living, breathing quote machine, something that immediately brought back fears of the Tim Brewster era for Gophers football fans. Fleck, 36, was officially introduced as the next University of Minnesota head football coach Friday afternoon at TCF Bank Stadium. He comes to Minneapolis from Western Michigan, where he won over Kalamazoo and led the Broncos to a No. 15 national ranking with his infectious energy and his Row the Boat motto.
So what did the quote-spewing Fleck have to say at his introductory press conference? Here's a few of our favorite one-liners.
"My entire life has been about running into the fire, not away from the fire."
"I eat difficult conversations for breakfast."
"I have a crack on my shoulder, not a chip."
"This is a family environment, and we define family as: Forget About Me, I Love You."
"If you're going to teach a rivalry, you can't use Jordan and Bird anymore. They think Jordan's the guy that makes the sneakers. You gotta use Kanye and Drake." 
"I'm the king of the too's: Too small, too short, too young, too inexperienced. I could go on and on with t-o-o."
"We're going to connect people to Gopher football that don't even like football."
"We are going to find a way to out-care everyone else, out-give everybody else and out-how everybody else."
"I have lived 3 lives in 36 years."
"Row the Boat will be part of it…but Ski-U-Mah is everything. The story of Ski-U-Mah -- there's a canoe, which is a boat. You got a paddle, which is an oar. And we've got the Northern Star here, which is our compass."
Replay the complete press conference - PLAY VIDEO