Woman walking behind Minnehaha Falls injured by falling ice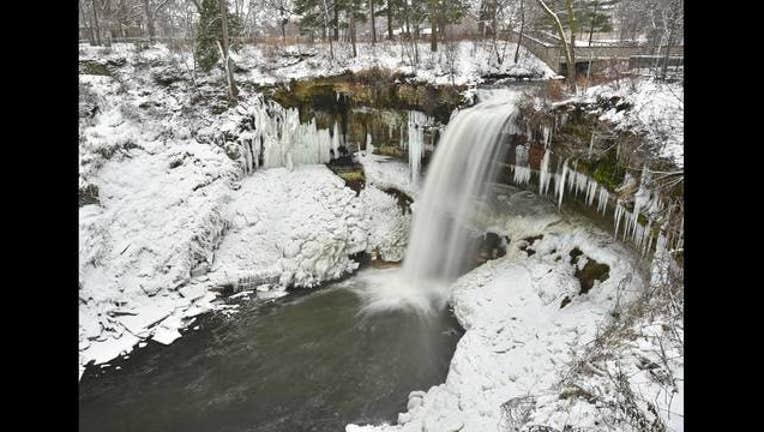 article
MINNEAPOLIS (KMSP) - Minneapolis park officials are warning people not to trespass at Minnehaha Falls after a young woman was injured by falling ice while walking behind the falls Sunday.
Around 3:30 p.m., a 20-year-old woman who was walking behind the falls was hit by a falling sheet of ice, causing her to fall and sustain injuries to her arm and wrist, Minneapolis Parks and Recreation Board spokesperson Robin Smothers said. She was evacuated from the area and taken to a nearby hospital with non-life threatening injuries.
The foot bridge above the falls and the pavilion are the only two places where visitors can view the falls safely and legally, Smothers says. All other areas near the falls are off-limits and visitors can be cited for trespassing.
The Minneapolis Park Police issued 60 warnings to people trespassing at the Minnehaha Falls on Saturday and 75 warnings on Sunday before the accident, Smothers said. They handed out seven citations to people who remained in the restricted area after the woman was injured.
There are usually several accidents each season involving people who are trespassing at the falls, according to park officials. 
In December, a 35-year-old man was injured when he tried to hop a fence to enter the restricted area. He suffered a significant laceration on his leg from the fence and was taken to the hospital.
Last March, a 23-year-old woman slipped on a rock behind the falls and sprained her ankle. Smothers said the victims in both incidents were aware they were trespassing.
Smothers' recommendation if you want to visit Minnehaha Falls in the winter?
"Stay safe, stay legal."