Wisconsin man trying to visit family in Ireland detained at Dublin Airport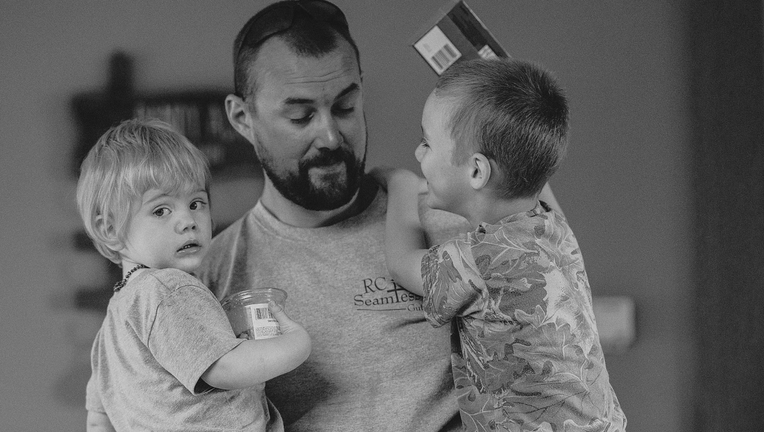 article
(FOX 9) - What started as a birthday trip to see his wife and kids overseas turned into a nightmare for a Wisconsin man who was detained Sunday at the airport in Dublin, Ireland. 
What's troubling to him is that he still doesn't have a clear answer why he wasn't allowed into Ireland to see family.
Ryan Volrath had plans to surprise his three boys and celebrate his birthday with them. He hadn't seen them in months and had been looking forward to the trip. The plan quickly fell apart, however, so now he's working to figure out why customs officials in Ireland sent him back home.
"It was supposed to be a surprise for my boys," Volrath said.
For months, he had been setting money aside for the trip. His family even had a cake ready and they were going to sing "Happy Birthday." 
But, none of that happened. Volrath says he was detained by Irish customs officials soon after getting off his plane in Dublin Sunday.
"I walked up and they asked for (my) passport and they scan it and they ask 'What's your purpose for visiting Ireland today?' and I said 'I've come to see my family,'" he said.
That reason, and a document from his job saying he had plans to return to work in the U.S. after his vacation, wasn't accepted.
Volrath said he was kept for hours at the airport. Additional documentation brought to customs by his wife that night wasn't accepted. He was sent back to the U.S. Monday with only a letter and no clear explanation. Now Volrath is sharing his story so it doesn't happen to others.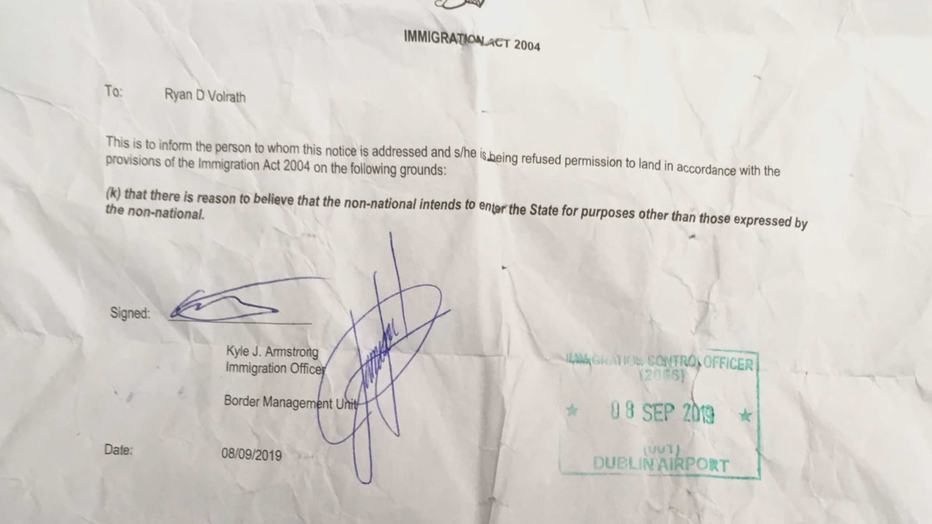 A Wisconsin man was handed this letter and no explanation after he was detained at an Irish airport. (Ryan Volrath / FOX 9 Minneapolis-St. Paul)
"I bleed for my children and cry for my wife each day right now just knowing what she's going through," Volrath said.
The family lawyer, in a statement, said they are working to have the incident expunged from his record. They are looking for damages for what they say was Volrath's unlawful detention.
Volrath says he's just hoping for another chance to see his family.
The Ireland Department of Justice and Equality provided a written statement to FOX 9, saying the Irish Naturalisation and Immigration Service "does not comment on individual cases," but that "all relevant factors are taken into account" when reviewing applications for entry into the country. 
FULL STATEMENT
The Irish Naturalisation and Immigration Service (INIS)  does not comment on individual cases. Under the Immigration Act, 2004,  the question of entry for any individual, visa or non-visa required, is determined by the Immigration Officer at the time of the individual seeking leave to enter the State.
All relevant factors are taken into account with the principal ones being: the purpose of the visit or stay, the duration of stay, the ability of the individual to support themselves during their stay, and proof that the person will exit the country on or before the expiry of any permission given. 
 
Each application for entry to the State is assessed on its own merits. Passengers being interviewed by Immigration Officers are offered refreshments during this time.