Wheelchair stolen from 2-year-old with cerebral palsy in West St. Paul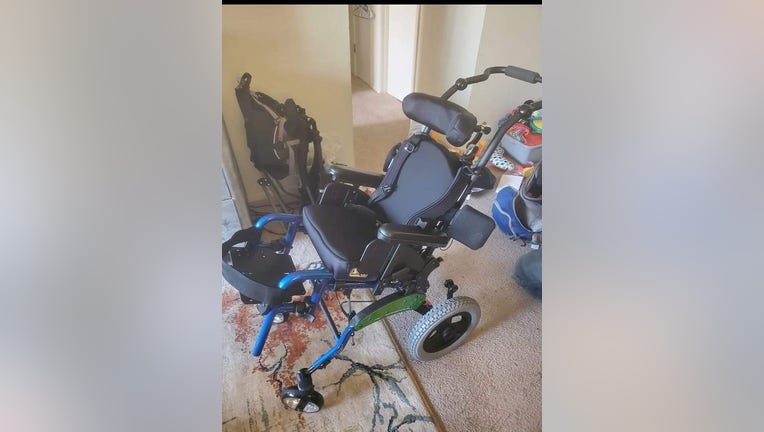 WEST ST. PAUL, Minn. (FOX 9) - West St. Paul Police are looking for a wheelchair stolen from a two-year-old with cerebral palsy.
Thursday morning, West St. Paul Police put out an alert asking residents to be on the lookout for the custom wheelchair.
Holly Magee's son's customized wheelchair was taken overnight Tuesday from her vehicle in a parking lot on the 200 block of Thompson Street in West St. Paul.
"It's literally heartbreaking," said Magee.
It's also a huge setback. Her son, Levi, was born with cerebral palsy.
"Without it we can't go anywhere," said Magee. "It's hard, it means I physically have to carry him. He has no head support, no trunk support. He's pretty much dead body weight."
Police are now investigating.
"I'm hoping that the individuals for the theft sees this, sees what we're doing, sees how important this wheelchair is to the family and comes forward," said West St. Paul Police Chief Brian Sturgeon.
"Without this wheelchair we can't even advance in therapy," said Magee. "Everything has to kind of come to a halt. We can't move forward with speech, we can't move forward without it."
Valued at more than $6,000, Magee says the wheelchair can take up to six months to replace. That's time she and her son can't stand to lose.
"It looks like fun, you want to play with something in the car," she said. "You want to take it and try it out, you don't realize that that's somebody's life. Somebody legit needs that to go around and take care so that they can go on in life and you just literally wiped that away from my child."
Anyone with information is asked to contact the West St. Paul Police Department at (651) 322-2323.