Weather Memorial Day Weekend gets a bad rap for a good reason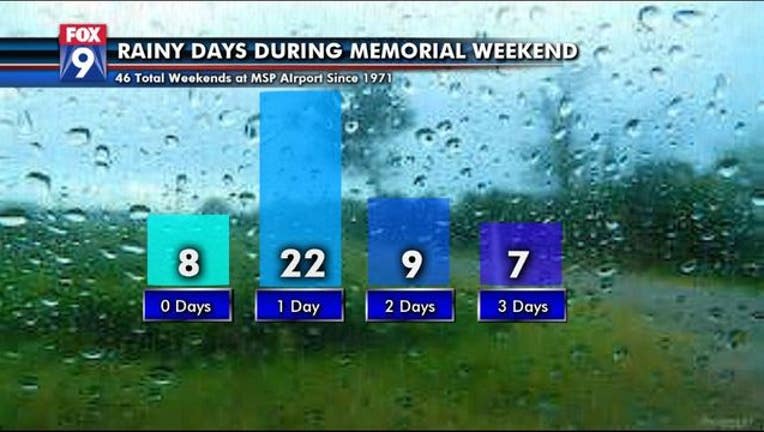 article
KMSP - May in Minnesota; the time of year when almost anything can happen.  We say that just about every month, but in May it really is true.  Heavy rain, cold wet days, heat waves, severe weather, extreme drought, heavy snow… we really can get just about every type of weather in the month of May.  So it's no surprise that when most folks see rain in the forecast for the long holiday weekend, there's lots of moaning and groaning and assumptions that it will rain the whole weekend.  Well, that's just not true.  While we have had our fair share of pretty crumby long weekends, more often than not, the holiday is mild with at least one day of rain. 
Memorial Day has been a nationally recognized holiday since 1971, and since then, only 8 of the 47 years have seen dry weather all 3 days at MSP Airport.  That's just 17% of the time.  No wonder everyone thinks it rains all the time on Memorial Day weekend, because it does more often than not.  But it really shouldn't be a surprise to most considering the wettest time period for the metro is usually the latter half of May through the first half of July.
Most years though, nearly half of them, there is rain recorded at MSP Airport on just 1 of the 3 days.  Then the rest of the years are split between 2 rainy days and 3.  It is important to note that we have actually experienced more fully dry weekends than we have fully wet… just remember that going forward when you assume it's "always gonna rain".