Walz favors $500 Minnesota stimulus checks, not gas tax holiday to ease pain at the pump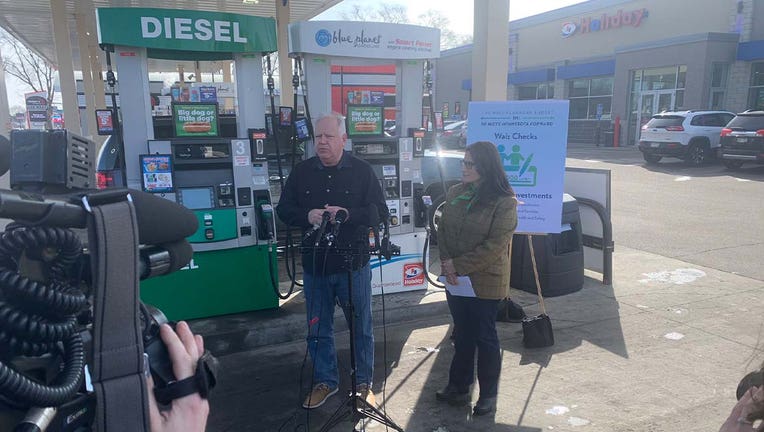 article
ST. PAUL, Minn. (FOX 9) - Minnesota Gov. Tim Walz is pushing lawmakers to pass bigger rebate checks instead of a gas tax holiday as inflation surges to levels not seen in 40 years.
Walz's proposal calls for direct payments of $500 to adults who make less than $164,400 a year and $1,000 per couple making less than $273,470. He has tripled the size of the checks since he first proposed them in January, and his administration now estimates the cost at $2 billion. The checks are part of Walz's updated spending plan released Thursday.
Politicians across the country are grappling with inflation -- especially highly visible gas prices -- with this fall's midterm elections looming. Walz said a direct payment would be more effective than waiving the state's 28-cent per gallon gas tax over the summer, as some House Democrats have proposed. 
"It's quite a few fill-ups that you could get out of $1,000," Walz told reporters at a gas station in New Hope. "I think this money in the hands of folks before summer would make a good difference. And it's fiscally responsible."
Still, the first-term DFL governor said he would sign a gas tax holiday if the divided state Legislature passed one.
Under a gas tax holiday, relief would be much slower than with a one-time payment. The owner of a vehicle with a 15-gallon tank would need to fill up 119 times before saving $500. But a rebate check wouldn't change the two-foot-tall, record-breaking prices displayed on gas station signs.
Republicans who control the Minnesota Senate call a gas tax holiday a gimmick. They have also been lukewarm to Walz's one-time rebate checks, preferring permanent income tax cuts instead.
The Senate GOP has called for cutting the bottom income tax rate -- which all filers pay on at least a portion of their income -- nearly in half.
"If we can't come to an agreement on that, I would be incredibly disappointed," Senate Majority Leader Jeremy Miller, R-Winona, told reporters when asked if he would view the session as a failure without tax cuts.
With the 2022 session nearing its midpoint, lawmakers have stalled on every proposal to spend $10.4 billion of combined budget surplus and federal COVID-19 relief money. Income tax cuts, rebate checks, bonuses for workers on the frontlines of the pandemic, and business tax breaks are all no closer to passage.
Republican and Democratic lawmakers have dealt with split-party control in the Legislature since 2019. In recent days, Democrats have accused Senate Republicans of not wanting deals, in hopes of improving their hand in this fall's midterms.
"The idea that you'll run out the clock and maybe roll the dice that you'll get the money to spend it all yourself, to me, it's just not moral to do that," Walz said, when a reporter asked about the possibility that the Legislature makes no deals this session.
Miller, the top Senate Republican, dismissed the criticism.
"It's absolutely ridiculous we don't want any deals," he said. "Which chamber is passing bills with bipartisan support? It's this chamber. The Minnesota Senate is passing bills with strong bipartisan support. Anyone who's saying we don't want to get deals done, it's absolutely false, it's absolutely ridiculous. It's actually laughable."
RELATED - Long live the Jesse Checks: Walz proposes Ventura policy redux