Walz calls for tax breaks on PPP loans and jobless benefits, keeps other tax hikes in latest budget plan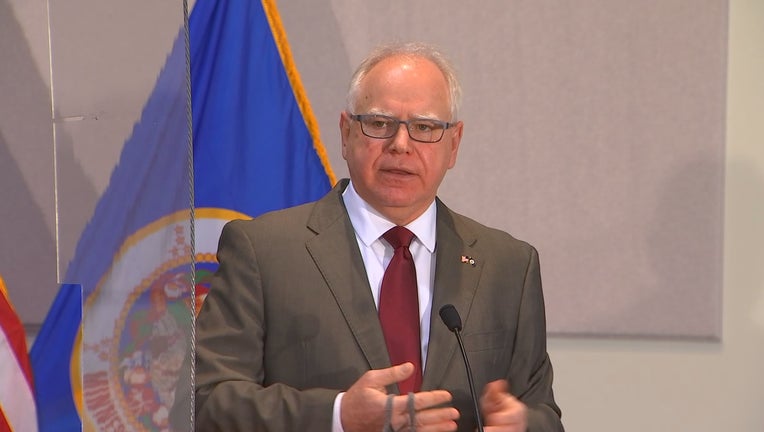 article
ST. PAUL, Minn. (FOX 9) - Minnesota Gov. Tim Walz is proposing tax breaks on business loans and unemployment benefits in his latest budget plan, while calling on lawmakers to pass tax hikes on Minnesota's highest earners and corporations.
Walz's revised budget proposal would make the first $350,000 of business Paycheck Protection Program loans and the first $10,200 of 2020 unemployment benefits tax-free.
"With the recent good news that Minnesota now projects a positive budget balance, we're recommending additional investments to support working families, ensure students catch up on learning, and help small businesses stay afloat while driving economic recovery," Walz said in an emailed statement.
Walz's PPP loan proposal would make about 93.5 percent of the 102,352 loans received by Minnesota businesses tax-free. The GOP-controlled Senate has passed legislation wiping away tax liability on all PPP loans, no matter the size.
Businesses got the forgivable loans to make payroll during the pandemic. They're free from federal taxes, but forgivable loans are subject to Minnesota taxes.
Walz's proposed tax break on 2020 jobless benefits would conform with federal law under the new COVID relief package signed by President Joe Biden this month, a change that Walz says will help 553,000 households. The Minnesota Senate's legislation would make only the first 18 percent of 2020 benefits tax-free. 
The DFL-led House has not acted on the Senate bill.
Walz's revised budget proposal removes his earlier plan to hike taxes on cigarettes. It scales back -- but does not eliminate -- his corporate income tax increase. It would now go to 10.8 percent, versus an earlier 11.25 percent proposal, up from the current 9.8 percent.
Walz's revised proposal keeps his other tax hikes, including a new fifth income tax tier for Minnesota's highest earners and a tax increase on capital gains. Senate Republicans have said they will not support any tax increases.
"We don't care what the tax increase is. We do not want it. We do not need it," Senate Majority Leader Paul Gazelka, R-East Gull Lake, said in a video statement.
Minnesota has a $1.6 billion projected surplus, which flipped from a deficit in the period since Walz released his original budget proposal in January. 
The projection does not factor in $2.5 billion that the state will receive from the federal COVID relief law. On the downside, it also does not account for inflation that will make state services more expensive.