Wake Up With FOX 9 jingle returns
EDEN PRAIRIE, Minn. (FOX 9) - FOX 9's fan-favorite jingle is back! Wake Up with FOX 9 began over 20 years ago and became an immediate hit with viewers. With the longest-running morning team in the market and the most local news in the morning, 2023 was the perfect time to reimagine the Wake Up campaign after an eight-year hiatus.
FOX 9 felt it was important to lean into nostalgia, so with the same primary team, Tom Butler, Alix Kendall, and Keith Marler, we shot aboard the light rail for our new Wake Up campaign. 
We collaborated with Megatrax, a production music library and distributor that makes custom music for stations all over the nation, to create the new rendition of the Wake Up song.
In addition to the new campaign, FOX 9 along with Gordon Ramsey's new show on FOX, Next Level Chef, is giving away $500 per day in a watch-and-win contest during the morning news the week of Feb. 13.
To celebrate the new campaign, we will be waking up with you at different locally owned coffee shops across the Twin Cities Metro. Come meet us and enjoy a coffee on us at the locations below (while supplies last).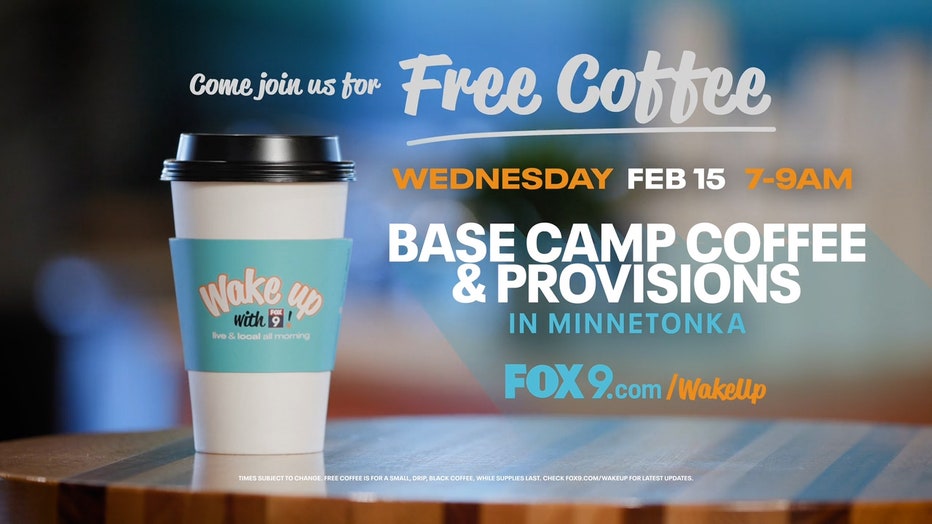 Join FOX 9 for free coffee on Wednesday, February 15 at Base Camp Coffee and Provisions. (FOX 9)
Base Camp Coffee & Provisions:
14625 Excelsior Blvd., Minnetonka
February 15
The Buzz Coffee and Cafe:
411 Burnsville Pkwy., Burnsville
March 1
The Wild Bean:
88 Mahtomedi Ave., St. Paul
March 8
Lost Fox:
213 4th St. E Suite 100, St. Paul
March 15
West Side Perk:
7700 West Old Shakopee Road, Bloomington
March 22
The Get Down Coffee Company:
1500 N 44th Ave., Minneapolis
April 12
In honor of the launch of our Wake Up with FOX 9 campaign, our morning team put together a playlist of their favorite songs to wake up to! 
Leah Beno: "Banana Pancakes" by Jack Johnson
Keith Marler: "Sweeter" by Gavin DeGraw or "Good to be Alive" by Andy Grammar
Kendall Mark: "The Middle" by Jimmy Eats World or "Higher Power" by Coldplay
Cody Matz: "You Make my Dreams Come True" by Hall and Oates or "High Hopes" by Panic! at the Disco
Jeff Orcutt: "Let's Get Loud" by Jennifer Lopez
Shayne Wells: "Bluebird" by Miranda Lambert or "Wild Things" by Alessia Cara
Lori Fisher: "Lavender Haze" by Taylor Swift or "I'm Coming Out" by Diana Ross
Check out the full playlist here.
Wake Up with FOX 9 gear has also been added to the FOX 9 store. Check it out here.