VIDEO: 11-year-old leads police on wild chase in cement mixer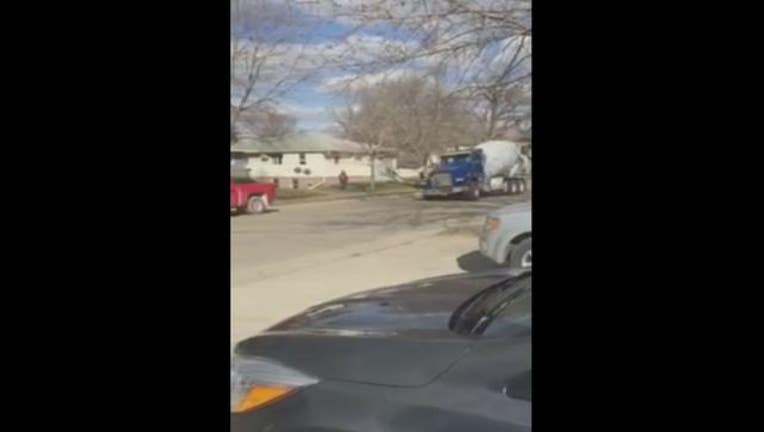 DODGE CENTER, Minn. (KMSP) - An 11-year-old stole a cement truck and took it on a joyride through the streets of southern Minnesota, running from police for more than an hour. The chase reached speeds up to 80 miles an hour and at one point a State Patrol helicopter was involved.
The chase eventually ended in a cul-de-sac in Dodge Center, Minn., where it is hard to miss the remnants of the event that is the talk of the town. After the boy was caught, he told police his father taught him how to drive.
"Nothing like this happens here. Nothing like this happens here. You hear cars getting broken into here, little things like that, but not a kid underage stealing a cement truck," said Dodge Center resident Kaity Peterson.
Investigators say the 11-year-old boy stole a cement mixer from McNeilus Truck and Manufacturing in Dodge Center on Sunday afternoon. For the next hour, he led police on a high speed chase to Kasson, Minn. several miles away and back again, broadsiding two squad cars in the process including one belonging to a Kasson police officer as he trying to keep the mixer from hitting traffic in rural dodge county.
"I'm a little bit sore today, I gotta say. I got a clean bill of health this morning; I got jostled quite a bit. I'm a tough old bird no cement truck is going to do me in," Officer Gary Scofield of the Kasson Police Department said.
Before the chase came to an end, the State Patrol sent its helicopter to track the cement truck's movements. Stop sticks were even deployed to slow the truck down, but the driver continued driving on the truck's rims.
After finally stopping in the cul-de-sac, the boy tried to run, but police were able to detain him before he got away.
"As they were escorting him out I asked my county officer to stop so I could at least get a look at the guy that tried to kill me with a cement truck.  I said 'son what were you thinking?' and he said, 'I'm sorry.' I said, 'ok.' Patted him on the shoulder because he's a juvenile and let it go at that and off he went."
The boy was taken to the Dodge County Juvenile Detention Facility and will make his first court appearance on Tuesday.
Police say he's lucky he didn't hurt himself or anyone else.