U.S. Attorney: Minnesotans involved in Capitol riot will be prosecuted
WASHINGTON, D.C. (FOX 9) - The U.S. Attorney for the District of Minnesota Erica MacDonald is among a number of federal prosecutors pledging to prosecute people from their state who committed federal crimes during Wednesday's riot at the U.S. Capitol Building in Washington, D.C. 
MacDonald issued a statement on social media overnight decrying Wednesday's violence in Washington, D.C. where rioters supporting President Donald Trump breached the U.S. Capitol Building as Congress was certifying Joe Biden's election win. 
"The storming of our Nation's Capitol building is not protest—it's despicable, disrespectful and a violation of federal law," MacDonald wrote. 
PHOTOS: Pro-Trump rioters storm Capitol in DC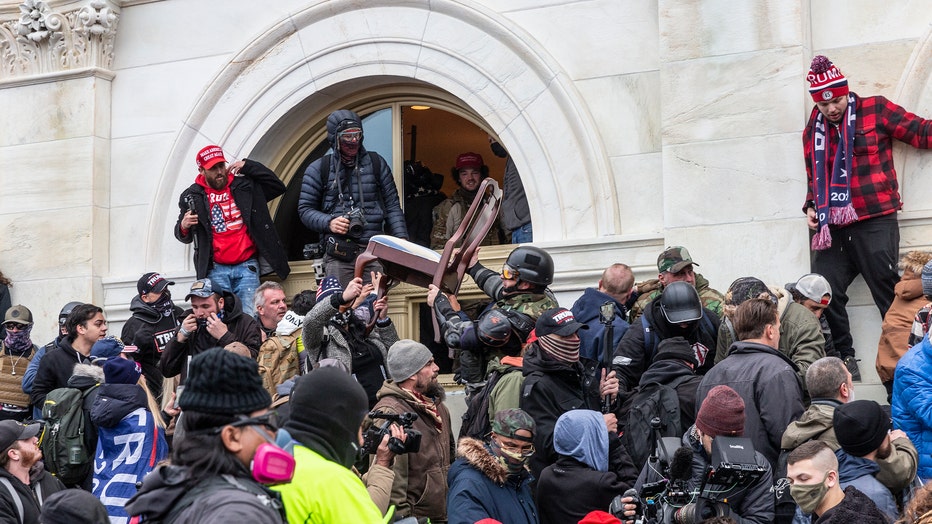 WASHINGTON DC, DISTRICT OF COLUMBIA, UNITED STATES - 2021/01/06: Some rioters breached through the windows into Capitol building and throw furniture out. Rioters broke windows and breached the Capitol building in an attempt to overthrow the results o (Lev Radin/Pacific Press/LightRocket via Getty Images)
MacDonald said her office will prosecute anyone from Minnesota who traveled to Washington, D.C. and may have violated federal laws. 
"If we can prove you traveled from MN to DC to commit violent criminal acts, then you will be prosecuted by (my office) to the fullest extent of the law," MacDonald said. 
MacDonald and FBI Special Agent In Charge Michael Paul released a joint statement on Thursday on Wednesday's violent riot. 
"The U.S. Attorney's Office for the District of Minnesota and the FBI's Minneapolis Field Office condemn the violence and terror that took place at our Nation's Capitol and surrounding area," the statement read. "This was a reprehensible affront to our institution of democracy. We are committed to upholding the rule of law and will hold accountable any individual who traveled from the District of Minnesota to commit illegal, violent acts." 
The FBI is seeking information that would help them identify individuals who participated in Wednesday's violence at the U.S. Capitol Building and surrounding area in Washington, D.C. 
"At this point we don't have any specific connections to Minneapolis or to the tri-state area here and in the Dakotas which our office covers, but our folks here are also assisting and going through some of the material that's coming out of that review – we're also looking to collect material here from the public," said Michael Paul, the Special Agent in Charge at FBI Minneapolis Field Office.
The agency is asking anyone who witnessed unlawful, violent actions to submit information, photos or videos that could be relevant to fbi.gov/USCapitol or call 1-800-CALL-FBI. 
Since the acts happened on federal property, the charges could be serious.
"The question I think people are interested in, is will people be charged with sedition, will people be charged with treason," said Mark Osler, a professor of law at the University of St. Thomas.
Osler, who is also a former federal prosecutor, says rioters will likely face a combination of charges, but to prove sedition would take a more serious act.
"What they'd have to show is an act of war against the United States and if they were to levy that against someone, it would be against the people who committed the more serious acts of breaching the building busting in the window things like that," said Osler.