University of Minnesota professor developing potential HIV vaccine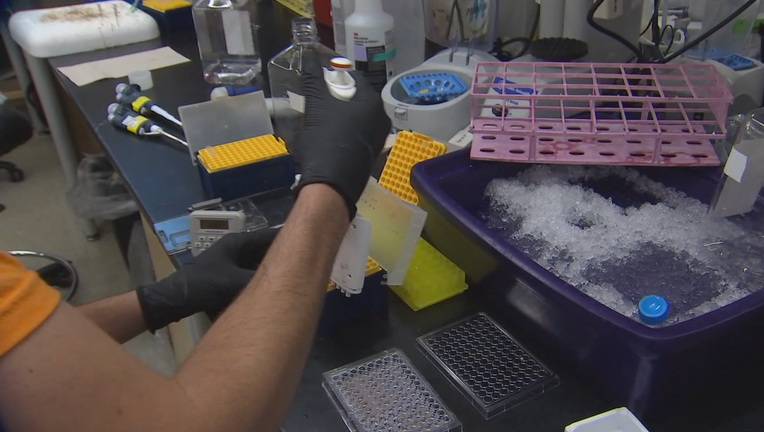 article
MINNEAPOLIS (FOX 9) - A potential vaccine for HIV could be in development right now at the University of Minnesota. Researchers are in the middle of an experiment, which shows promise.
"Right now, if you have HIV, even if you have access to resources, you still have to live with treatment for the rest of your life," said Professor David Masopust, University of Minnesota Medical School.
With more than 40 million people living with HIV around the world, and 286 new cases reported in Minnesota last year, Dr. Masopust dedicates his life to learning how to keep HIV from spreading.
"There will be close to 2 million people that will be infected each and every year, it is a communicable disease, so we have to run to stay in place," he said. "If we take our foot off the gas in terms of trying to control this thing, it can blow up."
With recent success testing primates exposed to a similar disease, Dr. Masopust says he's onto a game changer. His latest study tests a part of the immune system that's usually not targeted for the vaccine - the cell types he says are considered the body's first responders. It's why he believes an HIV vaccine might soon become a reality.
"If everyone got this vaccine and it was truly efficacious, then we could finally really get control over this pandemic," said Dr. Masopust.
The anti-vaccination movement, however has hindered steps moving forward by stigmatizing shots in some communities and therefore taking candidates off the table. 
"The concern is that that has slowed our progress, that extra years will have elapsed before we have an HIV vaccine and millions more people will be affected as a result," he said.
Dr. Masopust says no one would get an attacked HIV virus as a part of his shot. 
"You're getting the memory for free without going through the real infection," he said.
Yet much like the flu virus, the HIV virus is highly variable.
"So the big challenge in making an HIV vaccine is to make a vaccine that will see all HIVs," said Dr. Masopust.
The next steps are to move tests from primates to those who could be exposed in the future - with sights set on universal prevention.
"The next phase of this study is then to create a product that could go into people so those conversations are occurring now," he said.
Before the product can be tested on people, it has to be approved by the FDA. Already, there are people willing to volunteer for this vaccine study, but those tests may not start for another five years.