Union Hmong Kitchen opens Lake Street location, Chef Yia Vang continues vision expansion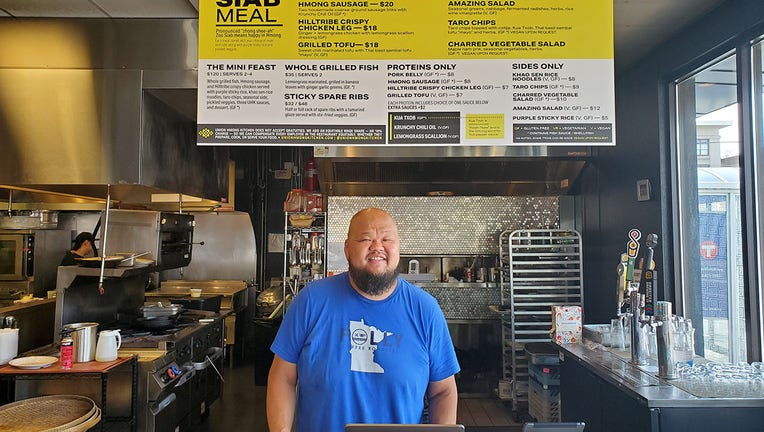 article
MINNEAPOLIS (FOX 9) - The owner and founder of the increasingly popular Union Hmong Kitchen, once known for their pop-up locations throughout Twin Cities events, has now opened his first standalone location – a potential headquarters for more ideas to come.
Located at 901 W. Lake Street in Minneapolis, seemingly in the middle of the Uptown and LynLake neighborhoods, the new Union Hmong Kitchen location offers Zoo Siab meals (meaning "happy" in Hmong) that feature proteins such as pork belly, chicken legs and Hmong sausage paired with sides like khao sen rice noodles, taro chips and grilled vegetable salad. Other offerings include a grilled whole fish and sticky spare ribs. 
With locations also at the Graze Provisions+Libations food hall, a stall at Target Field, and an upcoming new endeavor called Vinai, it's the chef behind the brand that offers a portrait of hard work coming to fruition.
Humble beginnings to ownership dreams
Born in a refugee camp, Vang first immigrated to St. Paul with family before moving to Wisconsin, and Pennsylvania as a child. Relocating back to Wisconsin in high school, he then attended the University of Wisconsin-Lacrosse to get a degree in interpersonal communications, public relations and marketing.
Admittedly, the culinary industry wasn't a long held passion for Vang in the beginning, but instead a job he took trying to keep busy.
"I had a buddies' uncle who owned a golf course in Wisconsin, and I worked as the dishes guy. We would help cook from time to time, and I was always decent at it, but I never wanted to make a career out of it. But when I went to college, I needed a job," Vang told FOX 9.
After graduation, he returned to the Twin Cities region to be near family.
"I was hoping to get a job with the degree that I had, but the only thing I could find at the time was working at restaurants. I wanted to go into the PR world, but the only thing I could find right away was managing corporate catering companies," Vang explained.
After breaking into the industry working at established Minneapolis restaurants such as Borough, Spoon & Stable, and Nighthawks, Vang took the leap into his own endeavor – starting Union Hmong Kitchen as a pop-up kitchen at Cook St. Paul.
"We would take over in the evenings on Friday night once a month," Vang said. "The other three weeks we would find catering gigs here and there. During the days, I was also working at Coastal Seafood, so it was a hustle back and forth for a while."
After a year, Sociable Cider Werks in Northeast Minneapolis approached Vang about running a new food truck it had purchased to be onsite.
Vang sustained a residency in the food truck at Sociable throughout the COVID-19 pandemic, but began dreaming of a place that was more sustainable, in turn allowing Francis Burger Joint to take their place running the trailer, and have their turn getting started. 
"The trailer was awesome, but the hard part is the winters – they're rough," Vang said.
According to Vang, there was no exact moment when they realized opening a brick-and-mortar location would be the ideal move, but rather a culmination of the experiences that led them to their success.
"I was told by a mentor in college to imagine you're lost in the woods, it's completely dark, but you have a lantern – it shows you five feet in diameter all around you. The more you move forward, the more it will show where your next step is," Vang said. "That's what life is. As much as you can plan, you can only see more if you move forward. You have to walk ahead knowing it'll be dark in front of you."
Vang initially opened his first location at Graze, being flexible throughout the pandemic, because "that's all we've ever known."
He also appeared on Netflix's Iron Chef series, further solidifying his reputation, and growing their popularity.
"From there we kind of blew up, but people still thought we were doing mostly pop-ups," Vang said.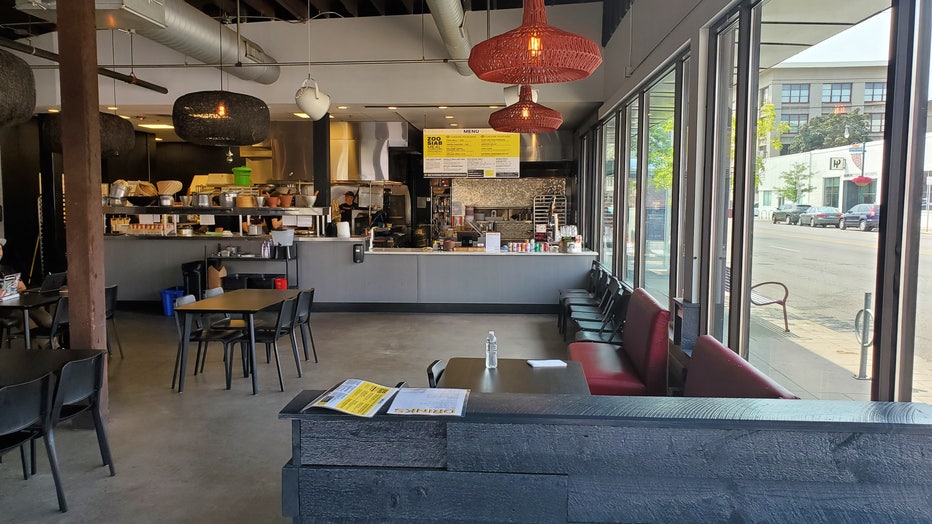 The inside of Union Hmong Kitchen at 901 W. Lake Street in Minneapolis.
In 2022, the Lake Street location became available and Vang decided to take on its lease largely for the ability to become a commissary kitchen for their Minnesota State Fair stall and Graze location.
"Last year this kitchen was filled with 12,000 pounds of rice as we were getting ready for the State Fair. We knew the place would be exactly what we needed," Vang said. "In the Hmong community sometimes there's this idea that Hmong people keep to St. Paul, University Avenue. And there's nothing wrong with that, but I believe we can cross the river. That's what Union Hmong Kitchen is about – an introduction into the Hmong community."
In addition to its standalone menu, the Lake Street location helps with caterings, prep for its Graze location and the annual State Fair – for which preparations begin nine months in advance.
Now with Union Hmong Kitchen's first permanent location officially open, Vang is quick to cite mentors throughout the Twin Cities who have fostered a culinary community that's less competitive, and more embracing to aspiring entrepreneurs such as himself – noting Alex Roberts of Brasa as one person who has helped take him under his wing.
"Alex has been a big mentor. He's one of those guys I can call at any time and say 'I have some questions' – I've learned a lot from him. I've always thought of Union Hmong Kitchen as a neighborhood spot, and I'm taking a page out of the Brasa playbook on that," Vang said. "Gustavo Romero of Oro, Jorge Guzmán of Petite Leon, Pedro [Wolcott] of Guacaya Bistreaux – we're all quick to dork-out on what we've been eating, and share what we've learned."
Still working on financing details for Vinai (which can't be disclosed quite yet), Vang hopes to continue the expansion of his brands throughout the Twin Cities as the path becomes clearer, but also hopes to help pave the way for aspiring Hmong chefs like himself in the process.
"I love the ability to tell our different diverse stories through the food we make. We believe that every dish has a narrative, and if you follow it close enough you get to the people behind it. It's about people and relationships," Vang said. "Our culture and DNA is woven into the food that we eat, passed down from generation to generation. I want younger Hmong kids to see that this is an option, if they want to pursue it. I want to raise up young leaders to be able to run restaurants for themselves."