Teen arrested for Michael Brasel murder was involved in violent Harding HS robbery
ST. PAUL, Minn. (FOX 9) - FOX 9 has confirmed through multiple sources that the 17-year-old suspect in custody on suspicion of Michael Brasel's murder is the same young man captured on a video that went viral last year inside a Saint Paul Harding High School bathroom.
In that video, you can see the armed assailant attempting to gain access to and rob a fellow student of his cell phone. There's a pretty intense scuffle as a witness videotapes the encounter on Snapchat.
It is not clear if it is an actual firearm or a BB gun. Regardless, the teen, who we are not naming at this point, was charged and eventually pled guilty to aggravated robbery in that case. He was discharged from probation and supervision four months ago, in January.
On Wednesday, Saint Paul police executed a search warrant at his family's home on Reaney Avenue East where the suspect was taken into custody on suspicion of gunning down Brasel when the dad and beloved hockey coach interrupted a car break-in and confronted the armed teen.
"This is a senseless, senseless, violent crime not too far down the road," explained former Saint Paul Police Chief Todd Axtell. "I am a resident of the city now, not the chief anymore. But these are my neighbors. These are community members. This has a devastating impact on the community, all the communities who love this city."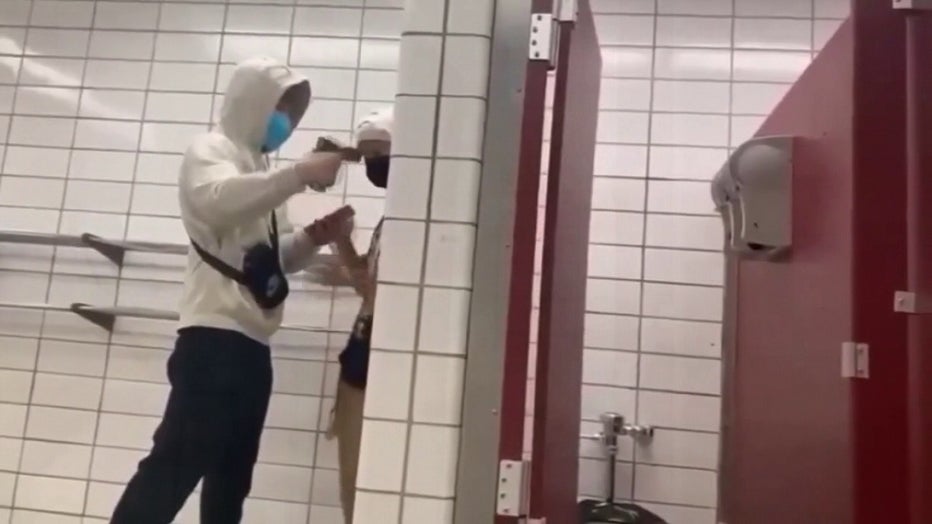 A screenshot from the Harding HS robbery. (Supplied)
Axtell, who now his own public safety consultancy The Axtell Group, spoke to FOX 9's Paul Blume broadly about the juvenile justice system, and the consequences for young offenders when it comes to guns. 
"Time and time again, the young people continue to re-offend," said Axtell. "They are getting caught with a gun in the commission of a crime. Stolen guns, young people who shouldn't have their hands on guns. Again, using these guns to solve their disputes and commit crimes in our city. That should not have to happen more than once or twice before the criminal justice system says enough is enough."
Prosecutors continue to review the facts and evidence in Brasel's murder case. No charges have been filed at this point.
Publicly available court records for the 17-year-old suspect indicate he has had his mental competency questioned in the juvenile justice system.