Sunday alcohol sales passes Minnesota Senate committee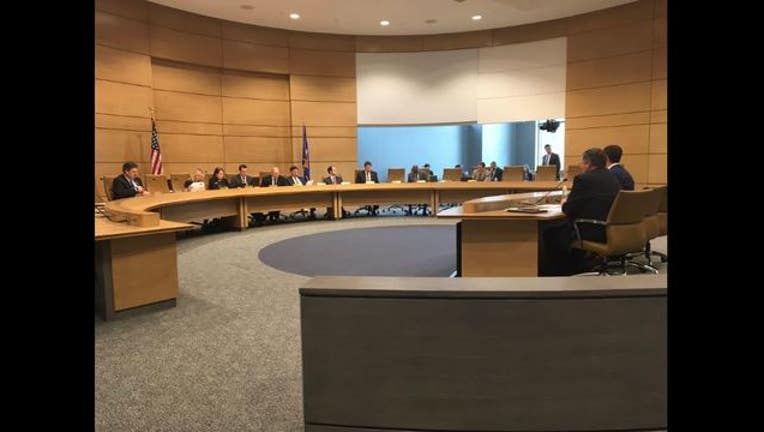 article
ST. PAUL, Minn. (KMSP) - The Minnesota Senate Commerce Committee voted 7-4 Wednesday afternoon to pass the Sunday liquor sales bill. It will now be scheduled to hit the Senate floor for a vote.
The Senate version of the bill differs from the House bill in that the Senate bill opens Sunday sales at 11 a.m., while the House version sets a 10 a.m. start. That means if the Senate passes its Sunday sales bill "as is" it would have to go to conference committee and then back to both chambers for a re-vote before reaching the governor's desk.
At Wednesday's hearing in the Senate Commerce Committee, Tamara Kramer of Vom Fass Liquor at Mall of America said Sunday sales should increase her sales by 10 percent.
"What we're asking for is the opportunity to provide the revenue the jobs and the economic freedom for Minnesota to move forward and be done with the last vestiges of Prohibition," said Andrew Schmidt.
"I'm looking at the loss of revenue and the loss of tax money due to no pull ahead sales on Friday's," said Peter Trocke, an opponent of Sunday sales. "I'm looking at the intrusion of big box retailers should Sunday sales become available."
Sunday liquor sales passed the Minnesota House on a floor vote of 85-45. 
The House bill's chief author, Rep. Jenifer Loon of Eden Prairie, has pushed for the repeal in every legislative session for the past four years. Each time, her bill has been voted down over concerns from unions and small businesses who've argued that opening an extra day would only increase labor expenses without increasing sales.
Governor Mark Dayton acknowledged this session that Sunday sales has become a populist issue that he would not veto.
"It's one of those issues where there are vested interests on one side and vested interests on the other side," Dayton said. "Where is the public interest? I think the public interest is to probably to buy alcohol on Sunday's like you can buy just any other commodity."
If passed and signed into law, Sunday sales would likely go into effect on July 1.