Summit Ave repair and bike trail debate: What you need to know
ST. PAUL, Minn. (FOX 9) - Summit Avenue in St. Paul is one of the most iconic stretches of road in Minnesota —  and as the city prepares to repair aging infrastructure under the street, a proposal to add a raised bike lane is stirring a passionate debate among residents. 
The city is proposing a $100 million reconstruction, including the creation of raised and separated bike lanes. St. Paul city leaders say replacing them is imperative because William Howard Taft was president the last time Summit was reconstructed.
"And what that means is not just that there are old utilities under there — we have a water main under Summit that was put in 1888. There is also the roadbed itself that keeps things stable, it's fractured and broken," St. Paul Public Works Director Sean Kershaw told FOX 9. 
Members of the St. Paul Bicycle Coalition endorse the city's proposal and say the separated bike lanes with buffers will make the avenue accessible for less experienced riders while narrowing the road will make it safer for pedestrians by slowing down cars and making it easier to cross the street. In the decade from 2012 to 2021, Summit saw 32 collisions involving bicyclists, according to city staff. 
"It makes a more comfortable bikeway for families or for people who are less confident riders. And I think that most of our bike infrastructure is on-street bike lanes, but we're trying to create a few more off-street bikeways so that people who are on the fence and want to try biking or whatever can get their toes wet," Andy Singer, a volunteer co-chair of the St. Paul Bicycle Coalition told FOX 9.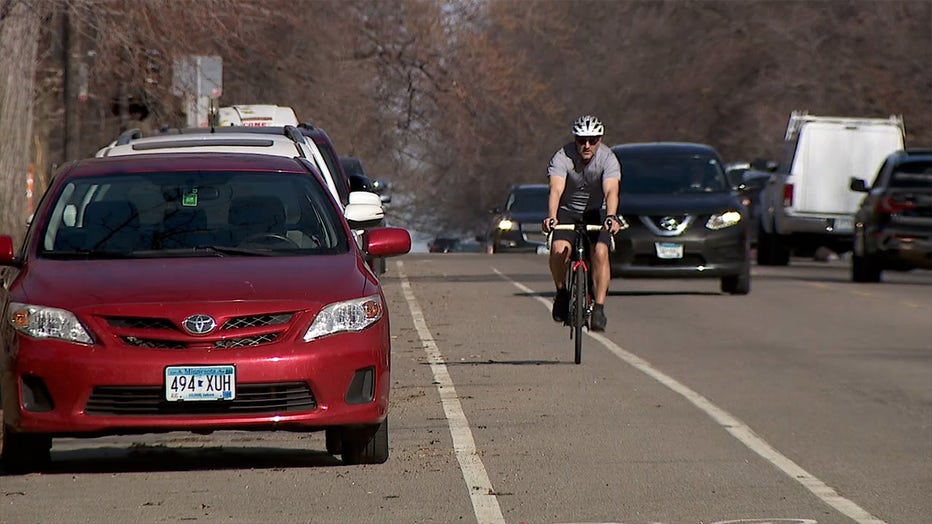 A man rides a bicycle in the bike lane on Summit Avenue in St. Paul. (FOX 9) 
Opposition group 
But support is far from universal.  A citizens group, Save Our Streets, is opposing the plan, and their "SOS" yard signs are ubiquitous along sections of Summit Avenue.  
"Summit Avenue is a treasure for the city, for the state. And it's too valuable to risk approving a plan that's going to make irrevocable changes to it and where the impacts that are aren't fully understood," SOS volunteer Gary Todd said.  
St. Paul Parks and Rec Director Andy Rodriguez says city staff is working with preservation bodies to make sure the plan protects the area's historic designation.
"Summit is one of the most historic streets that we have within the city. I do think there is a way to modernize it and still maintain that historic character, and I think that's what this plan does," he said.  
Dan Marshall, a cyclist who uses Summit Avenue to commute to a toy store he is a part owner of on Grand Avenue, has argued in the transportation blog streets.mn that Summit Avenue's role as a bike corridor dating back to the 1890s is an essential part of the street's historic character. 
"One of the first major bike routes that was created in the Twin Cities was Summit Avenue, and cyclists would come over from Minneapolis just to cycle Summit and take in the beauty of the scenery and the houses. I think that feeds a lot into what we know of as Summit Avenue and why we appreciate it the way we do. It's because of cycling," he said in an interview. 
Conflicting estimates 
SOS has been measuring trees to highlight a potential problem with the construction proposal. The city estimates 200 of 1561 trees along the five-mile stretch could be impacted but not killed by the bike lane proposal, mostly in two of the three segments west of Lexington where the plan calls for widening the street by three feet. Save Our Streets members say their report from an arborist indicates the city will likely kill somewhere around 900 trees.
"The truth of the matter is, it's not just the street. It's not just the houses that are part of the National Historic Register. It is the streetscape, it's the character of the street, and part of that is the tree canopy," Patrick Rhone, a homeowner who is part of SOS told FOX 9.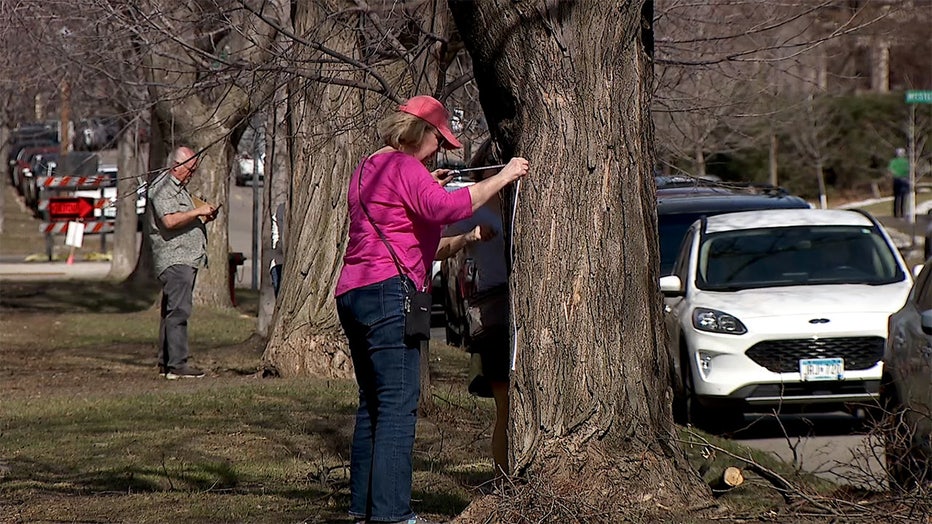 A volunteer with Save Our Street prepares to measure a tree on Summit Avenue in St. Paul. (FOX 9)
A focus on youth 
Two neighborhood associations are affected by the plan and both have offered qualified support.
The Macalester Groveland Community Council wants the trail plan to go further by better accounting of the impact it could have on children, particularly students.
Board member Hugo Bruggeman says the group estimates that one in five people in the area are students without driver's licenses who could benefit from the regional trail. He says they are working with city staff to refine the plan with youth in mind by looking more closely at things like crosswalk placement and adding more bike trails connecting the avenue to nearby schools.
"So you really can think of it as a corridor that could become with a trail, a low carbon corridor, and that would allow youth to move through the city perhaps more independently and perhaps at an earlier age," he said. 
The Summit Hill Community Council wanted the city to focus on having the path funnel people to businesses on Grand Avenue and to emphasize tree preservation.
"I think what that really is making sure that the things we all value about Summit Avenue are preserved and enhanced where possible. Everyone wants to see that linear, beautiful park experience preserved for generations to come," board president Simon Taghioff said. 
The city is still holding public hearings on the draft, including a parks and rec meeting on the evening of Thursday, April 13 at Palace Community Center and a transportation committee meeting on the afternoon of Monday, April 17 a City Hall. The plan is expected to go before City Council in May.
If the plan gets approved, funding and construction are likely at least five to seven years away.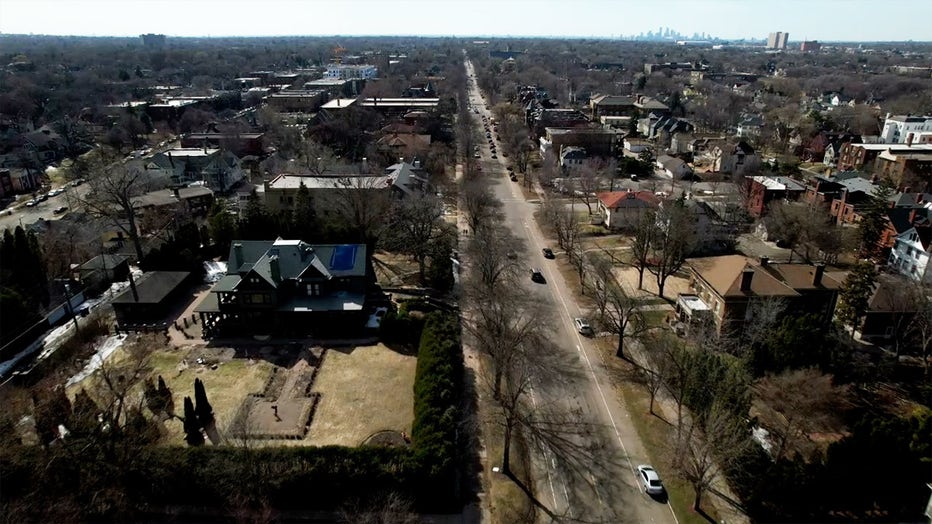 Summit Avenue in St. Paul, Minn., as seen from an overhead drone. (FOX 9)