South Minneapolis sinkhole caused by collapsed sewer main under street
MINNEAPOLIS (FOX 9) - At the intersection of 27th Street and Girard in South Minneapolis, a sinking feeling is spreading through the neighborhood. The city's public works department says a sinkhole, 10 feet deep and 5 feet wide, opened in the middle of the street on Sunday afternoon.
"It's alarming. I'm glad no one was driving through," said Jesse Merk, who lives nearby.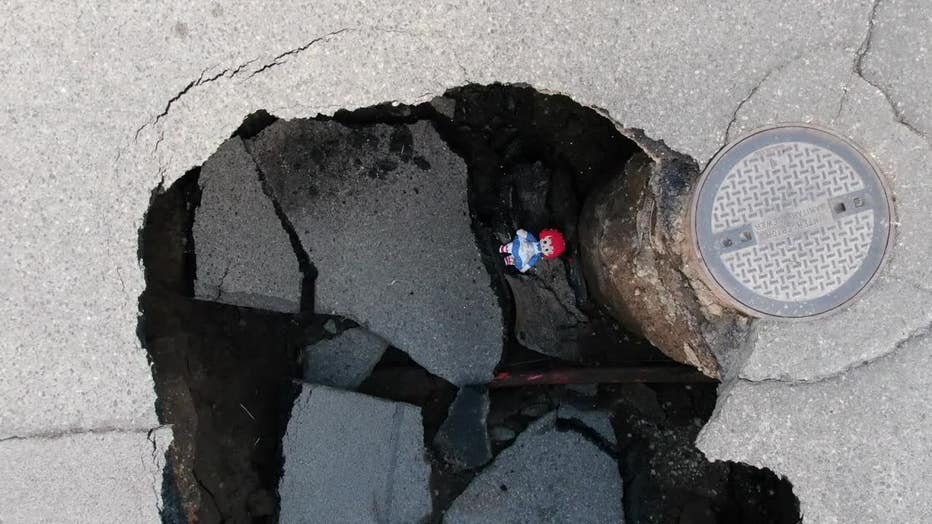 A sinkhole at the intersection of 27th Street and Girard Avenue South in Minneapolis.  (FOX 9)
"I took a picture of it right away and sent it to my kids and said 'Hey watch out! Don't drive on this street," said Jennifer Bush, who lives near the sinkhole.
Crews put barricades around the crater and sent a camera into it, where they found a collapsed sewer line that has been in use for more than 100 years.
Public works officials say the weather was probably also a factor.
"I would say the cause of this would be a deficiency in the sanitary sewer line, and the freeze thaw cycle exacerbated the problem a bit," said Angie Craft with Minneapolis Public Works.
It isn't the only large sinkhole in the metro.
Another one caved in the pavement of a bike trail and road in North Mississippi Regional Park in Brooklyn Center, but it's not clear what caused it.
Back in South Minneapolis, city officials say work to repair their sinkhole will begin late this week and should be finished by April 21.
Until then, they are asking people to stay away from what has become a mini tourist attraction in the area.
"Infrastructure is a problem. We need to improve the pipes under the streets as they need to be repaired," said Bush.
City officials said repair work won't affect sewer or water services to homes or businesses in the immediate vicinity.