Smith resigns as Lt. Governor, prepares for start in the Senate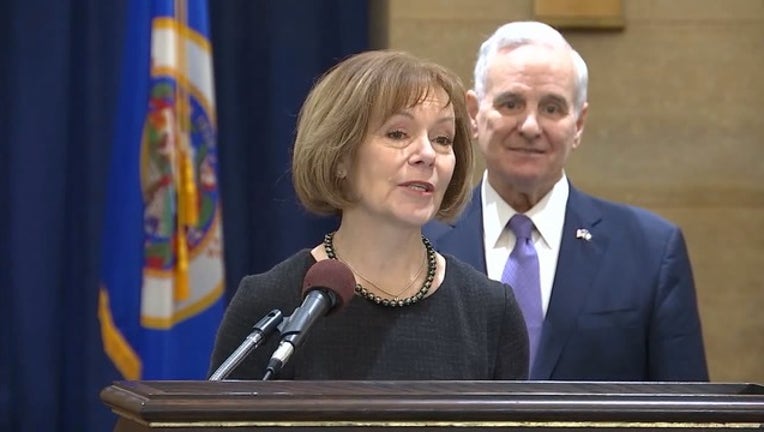 article
(KMSP) - Lieutenant Governor Tina Smith submitted her letter of resignation to Governor Dayton on Tuesday, ready to begin her term as Franken's replacement in the U.S. Senate.
Tina Smith will be sworn-in as U.S. Senator for Minnesota at noon on Wednesday at the U.S. Capitol in Washington, D.C.
Smith was appointed by Dayton following Sen. Al Franken's resignation on Dec. 7.
According to the Minnesota Constitution, Senate President Michelle Fischbach will become Lieutenant Governor.
Statements from Governor Mark Dayton and Senator-Designee Tina Smith:
"I have worked with many superb public officials during my forty-year career; Tina Smith stands foremost among them. Tina has the highest integrity and ability. I know that she will be a superb Senator, representing the best interests of our state and our citizens.
"Over the past few weeks, I have greatly enjoyed getting to know our state's new Lieutenant Governor, Michelle Fischbach. I look forward to our building a good working relationship in the year ahead."
— Governor Mark Dayton
"It has been my great honor to serve the people of Minnesota as our Lieutenant Governor. I am grateful to Minnesotans, and to Governor Mark Dayton, for entrusting me with the opportunity to represent our state in this office these last three years. I am proud of the work we have done together to build a Better Minnesota. I look forward to continuing that work in Washington, D.C., and working hard to deliver results and improve the lives of Minnesotans as our United States Senator."
— United States Senator-Designee Tina Smith