Sexual abuse suit filed against former Roseville boys swim coach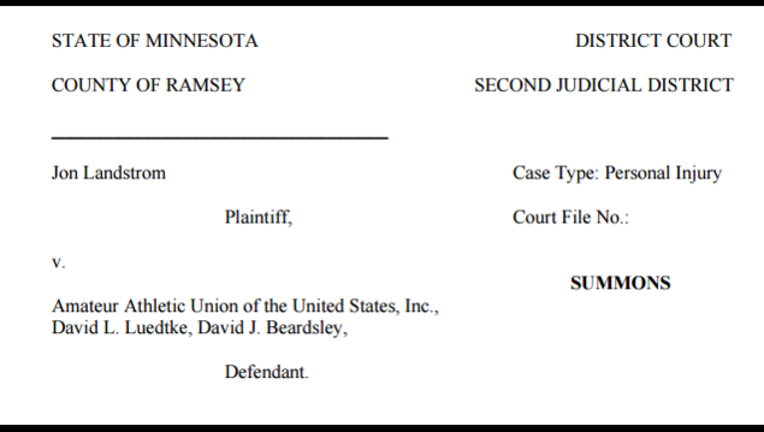 MINNEAPOLIS (KMSP) - A St. Paul man is filing for $50,000 in damages for allegedly being sexually abused in the 1970s when he was a youth swimmer for a Roseville swim club.
In 1973, Jon Landstrom was a 12-year-old swimmer for the Roseville Stingrays Swimming Club and member of the Amateur Athletic Union of the United States. In the complaint, Landstrom alleges David Beardsley, who was the assistant swim coach at the time, had sexual contact with him during swim practices and events for the Roseville Stingrays swimming club. According to the complaint, these events occurred from 1973 to 1975. Landstrom was 12 years old when the contact started.
The complaint also states in 1972, Beardsley was terminated as Assistant Scoutmaster with the Boy Scouts of America, after being accused of forcibly sexually assaulting a different boy multiple times during Tomahawk Scout Camp.
In addition to Beardsley, the suit has also been filed with the AAU and David Luedtke, who was the head coach of the team at the time. The complaint argues AUU or Luedtke "knew or should have known through reasonable investigation" that Beardsley had the potential to sexually abuse children.

Landstrom's attorney Patrick Noaker says Landstrom, now 55 years old, wants to be an example of "standing up for yourself."
"This is about reaching out and putting responsibility for the AAU and trying help any others who may be facing a similar situation," said Noaker.
Noaker said Landstrom was able to file the civil suit because of the Minnesota Child Victim Act, which changed the statutes of limitations for civil legal claims.
Officials with AAU did not immediately respond to our calls. A lawyer representing Beardsley was not available. Luedtke did not return our calls.