Police: Man convicted in arson trashes Caribou in Brooklyn Park
BROOKLYN PARK, Minn. (FOX 9) - The man convicted last year for an arson at a Salvation Army Church in Brooklyn Park was arrested Tuesday after police say he trashed a Caribou Coffee shop.
This is at least the fifth incident reportedly involving Jack Heinrich over the course of about seven months.
A couple of months after the church fire, Heinrich was back in trouble for low-level theft and disorderly conduct tickets. Before the arson, Heinrich was also involved in an incident in July 2022 during which officers say he ran away from and later fought with police.
Earlier this month, on February 1, Heinrich was accused of causing damage to the MC Tap House in the plaza near Zane Avenue North and Oak Grove Parkway. The charges accuse Heinrich of smashing windows with two beer bottles, which police estimated would cost $1,000 to repair.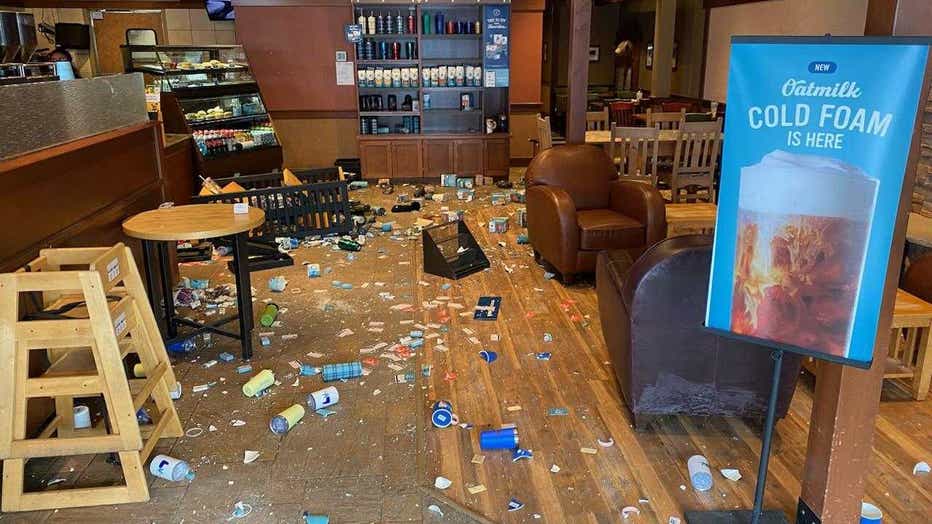 Photos show the vandalism at the Caribou Coffee in Brooklyn Park. (Supplied)
The charges state: "Prior to officers' arrival, Defendant told an employee of MC Tap House that when he gets out of jail, he will come back and break more windows."
Tuesday, Brooklyn Park police say they responded shortly before 3 p.m. for a disturbance in the same plaza as the MC Tap House, with a report of a man "throwing glass and breaking things." This time, officers say Heinrich was causing trouble at the Caribou Coffee.
At the store, officers say they found heavy damage to the Caribou and Heinrich standing in front of another business.
Police say Heinrich was transported to the hospital "for care related to an injury he received while smashing property inside the coffee shop." Officers say no one else was injured during this incident.
Brooklyn Park police say Heinrich was booked into Hennepin County Jail for felony damage to property and other charges.
Photos show the vandalism at the Caribou Coffee in Brooklyn Park. (Supplied)