Part semi, part pontoon boat: Duluth businessman's creation making waves
DULUTH, Minn. (FOX 9) - As the owner of a trucking company, Jeff Foster knows his way around a semi-truck.
But on a sunny summer afternoon on Lake Superior in Duluth, he is trading the highway for the waterway and giving the term cruising a whole new meaning.
"It's the most interesting boat we've ever been able to be on. I'm very proud of the boat for a handful of reasons," said Foster.
Foster's eye-catching creation is a combination of a semi-truck and a pontoon.
Unlike a traditional semi, there's no diesel engine under the hood, only a 90 horsepower outboard motor off the back of the boat.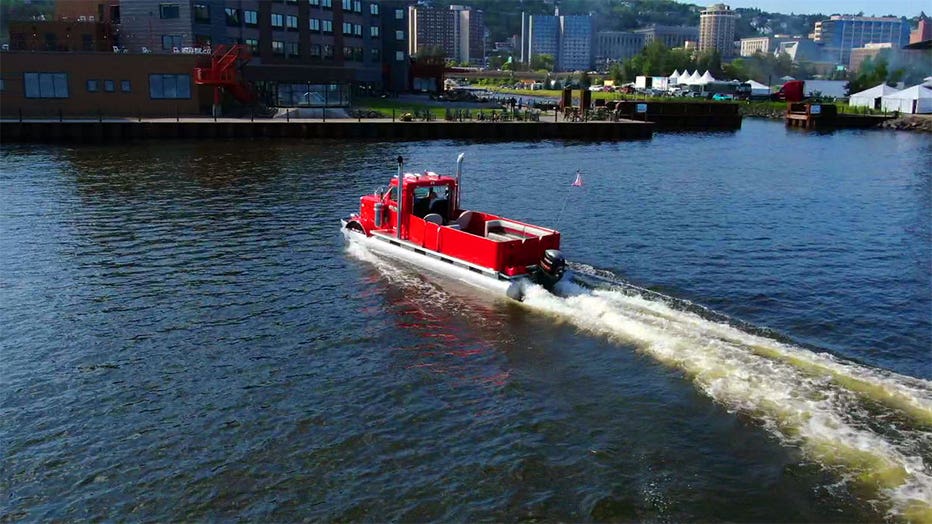 Foster says the boat handles like a regular pontoon and can reach speeds up to 20 miles per hour.
"You drive it just like you'd drive a semi-truck. It has all the bells and whistles, horns, lights, turn signals, high beams, low beams, running lights, air compressor. It's really an amazing piece of equipment," said Foster.
Foster says he takes his semi-pontoon out for a spin eight or nine times a summer and at first, many people who see it don't know what to make of it.
The seaworthy semi is also a floating photo magnet making waves wherever it goes.
"It's unique. It's a semi on the water. Who would have thought?" said Lindsay Balmer, who snapped a picture of the unusual boat.
"The first thing you see is their camera to take a picture of you and the second thing they get closer and everyone is going like this. It's the universal signal for truck drivers to honk their horn," said Foster.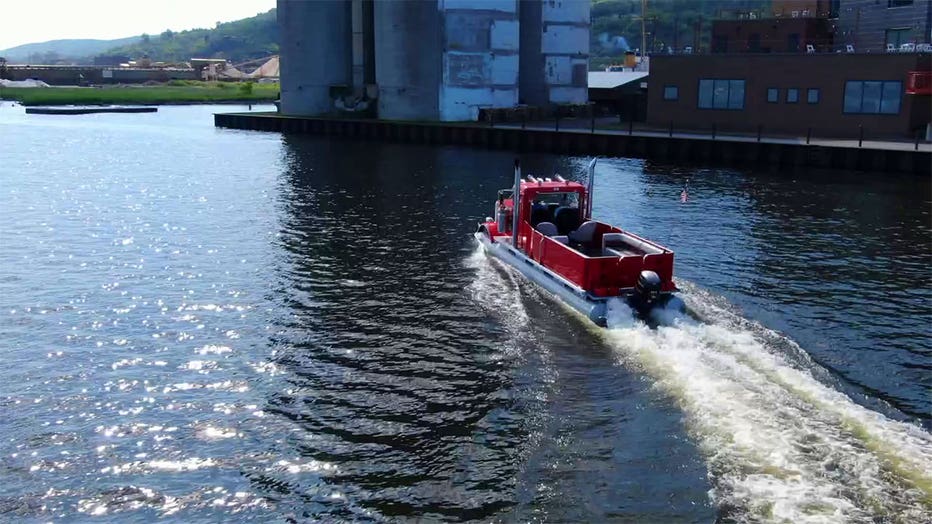 An employee at Jeff Foster Trucking came up with the idea after a video of another big rig pontoon hybrid circulated around the office.
It took about nine months for workers at his body shop to put it together from the cab and hood from a pair of Peterbilt trucks and an old pontoon boat foster bought from a friend, all as a team-building exercise for his employees. Foster calls it a Petertoon.
"There's certainly a sense of pride and again the reason I'm proud of the boat is the people who built it. The care and precision that went into building it," said Foster.
Foster says it's been smooth sailing since his Petertoon made its maiden voyage five years ago.
He plans to keep on truckin' on the water for the foreseeable future.
"It's been fun for our business, our employees, our family. It's just been a unique experience and we've really enjoyed it," said Foster.