Newly remodeled Edina Theatre reopens Friday
EDINA, Minn. (FOX 9) - Following a renovation, complete with a new bar inspired by "The Shining," the Edina Theatre at 50th and France is set to reopen Friday. 
The iconic theater built in 1934 has been empty since the previous owners closed the theater down at the start of the COVID-19 pandemic. The new remodel features a new sound system and much bigger, more comfortable chairs.
To match the bar, one of the movies playing at the theater is "The Shining."
Mann Theatres currently operates eight movie theaters in Minnesota, including the Highland and Grandview cinemas in St. Paul.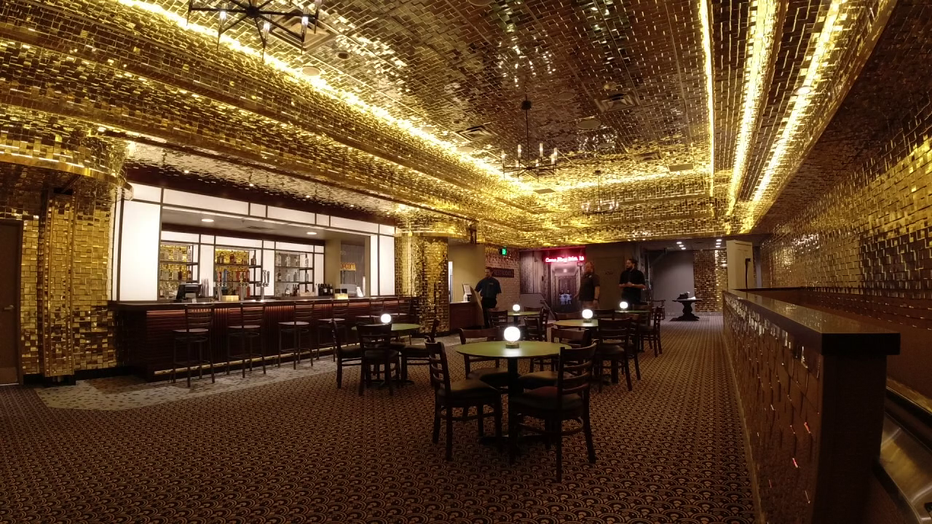 The new bar at the Edina Theatre. (FOX 9)
It's lights. Camera. Action at 50th and France
"I'm really excited about the theater reopening. I used to come to this theater all the time before I lived in Edina," said Edina resident Jasmine Brett Singer.
This V.I.P event may have all the glitz and glamour of a movie premiere, but it's really the debut of the recently remodeled Edina Theatre.
"I think for our community and the state of Minnesota as a whole, everyone is feeling good the Edina Theater is back in operation," said Edina mayor Jim Hovland.
The main attraction is The Gold Room on the 3rd floor, inspired by the bar in the movie The Shining. There are also several spots where moviegoers can take selfies that put them in a scene from the film to post on social media.
"It's one of my favorite movies. Absolutely one of my favorite movies. It's one of a kind. It's creepy. It's fantastic. Jack Nicholson. Stanley Kubrick. It's a great film," said Michelle Mann, co-owner of local theater chain Mann Theaters.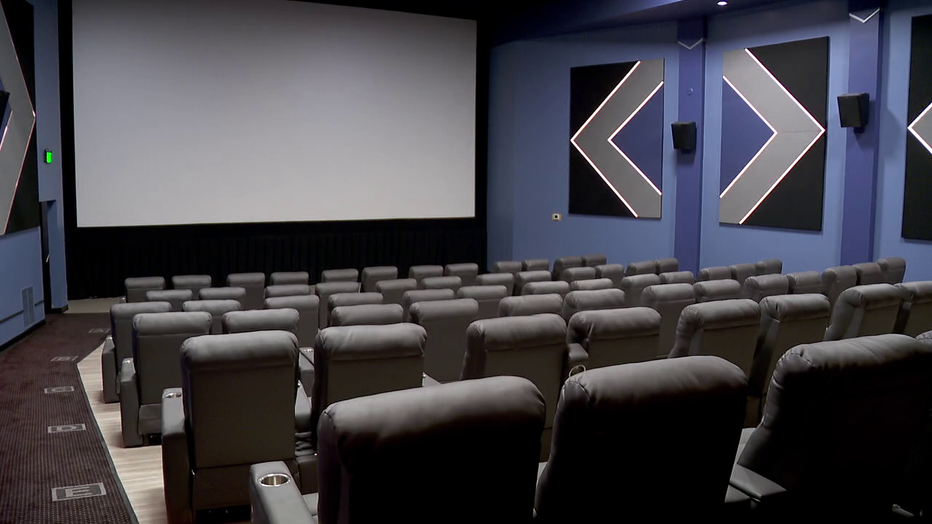 Inside a theater at the Edina Theatre. (FOX 9)
All four auditoriums have also been upgraded with heated recliners, as well as new screens and sound systems. The concession stand is also new but the carpet and marquee have been refreshed but are basically the same.
"We refurbished it. We repainted it. We re-lit it with LED bulbs to be more energy efficient. We redid the letters because they were rusting away. We gave it a great facelift. It needed a lot of love," said Mann.
At a time when movie theaters have more competition than ever from TV, home video, and streaming services, investing 2 million dollars in an old theater may seem like a risk, but Mann Theaters believes going to the movies will never go out of style.
"The pandemic made everyone stay home. You could only stay in our home for so long. Now it's let's get out, Have a destination to go to. Make a date night out of it. Let's have a wonderful experience," said Mann.