NASA issues a solar glasses warning ahead of August 21 eclipse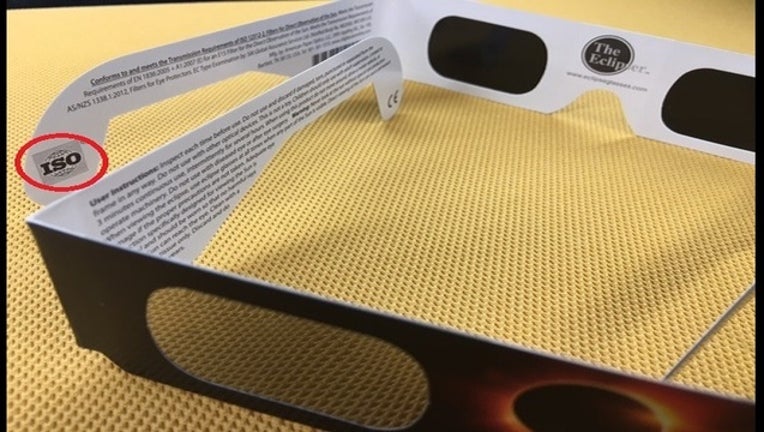 KMSP - In less than a week, the moon will pass in front of the sun to folks living in North America which will block out at least part of the sun to our continent during the late morning and early afternoon.  For those wanting to view this rare spectacle directly with your eyes, you will need some glasses.  No, you can't look at the sun with normal sunglasses.  You need specialized solar glasses that have solar filters on them to safely look directly at the sun because these glasses filter out 99.9% of the suns destructive rays.  Even then, with these solar glasses on, you shouldn't look at the sun for more than a minute or so at a time because damage can still occur to your eyes.
But just like with anything else that's sold in the US, you have to watch out for the fakes.  And that's what has prompted NASA to issue a warning so that folks are using a pair of solar glasses that have been made properly, because the effects of using glasses that are improperly made could endanger your eyesight.
NASA recommends only buying solar glasses from the following parent companies; American Paper Optics, Rainbow Symphony, Thousand Oaks Optical or TSE 17. The glasses must also have the "ISO" icon on the glasses themselves with a designation of ISO 12312-2.  They also recommend not using glasses that are more than 3 years old, just in case you had a pair in the back of your closet from decades ago, and don't use glasses that are wrinkled or scratched.
If you don't want to even mess with glasses, there are many other ways to view the eclipse which includes a livestream on NASA's website.