Minnesota farmers face planting delays from wet spring
HUGO, Minn. (FOX 9) - After back-to-back years when a lack of rain cut production in half for some Minnesota farmers, this April farmers wish the rain would go away. Rain combined with significant snow melt is keeping them from getting started seeding their corn and soybean fields this spring.
"We were really optimistic a few weeks ago when we had some 90° temperatures and a nice breeze and things dried out really well," Washington County farmer Fran Miron explained. "But then we had some additional snow and rain and moisture, and it's really kept us from getting in the field."
Miron is playing the waiting game on his 500 acres around Washington County, hoping he might be able to get started on a 200-acre portion soon. Typically, he'd already be planting grain by the end of April, but instead this year he's waiting on cold, wet fields to warm up and dry out.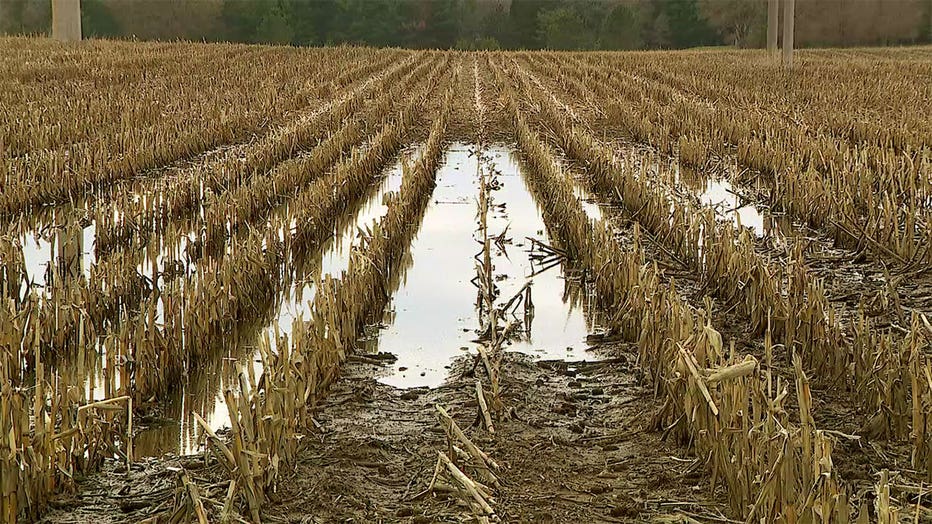 Flooded cornfield in Hugo, Minn. (FOX 9)
"I was stuck twice today with the tractor and the spreader spreading [manure] on the ground that was in corn last year," Miron said. "There's areas in the field we're going around [with] standing water."
And Miron says farmers across the seven-county metro are sharing in the problem.
"Most farmers have not started yet," Miron said. 
And with things the way they are right now, Miron adds that another inch of rain would delay planning by another week.
"We'd [usually] have our small grains and our alfalfa seeded, and we haven't even hooked up to the equipment yet," Miron said.
Now, when Mother Nature does decide to welcome farmers back, Miron worries in the rush to catch up, farmers will work long 18-hour days that increase the chance of dangerous accidents on the job.