Minnesota Aurora's Cat Rapp emerges as force ahead of USL-W playoffs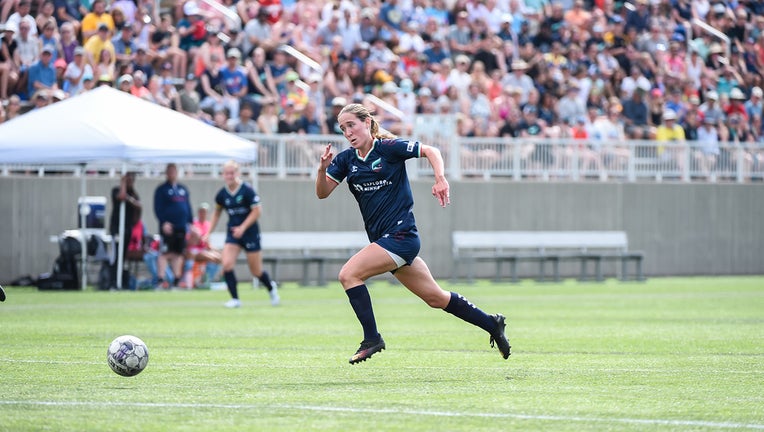 article
EAGAN, Minn. (FOX 9) - For the second year in a row, Minnesota Aurora are entering the playoffs of the USL-W league Thursday vs Chicago City SC after going undefeated and winning their division, but records can be deceiving — in this case, because they don't fully reveal the strides the team has made. 
Despite having gained only two additional points in the standings at the end of this season compared to the previous one (38 vs 36), the Aurora have metamorphosed from an already pretty gosh darn good offensive team into a relentless attacking juggernaut. In the 2021-2022 season, the Aurora had a commendable goal differential of +27, but this year they've shattered that record, scoring a remarkable 56 goals more than they've allowed. 
One of the catalysts for this transformation can be found in the team's attacking midfield. Hannah Adler, a 25-year-old seasoned professional who joined the team this past off-season, has been instrumental and is tied with star striker Maya Hansen as the team's leading scorer with 10 goals. The ascendance of Cat Rapp, a 19-year-old sophomore at Florida International University (FIU), has also been a game-changer. Rapp, who was primarily a substitute last season, has matured into a regular starter and is now recognized as one of the team's driving forces, with nine goals and six assists during the regular season. 
"Cat is one of the most dangerous players in this league," Minnesota Aurora head coach Nicole Lukic told FOX 9. "Her knowledge of space combined with her technical ability makes her a dangerous unpredictable attacker. She is constantly creating scoring opportunities for herself and her teammates."
Cat Rapp, one of three Rapp sisters on the team (she and her siblings Rami and Eli are fan favorites), attributes her increased minutes and impact this season to the trust Lukic has given her, as well as a new way of approaching the mental side of the game.
In 2022, she had only just completed high school when she joined the Aurora, but her minutes grew as last season progressed (she played every minute of the final vs Tormenta, which Minnesota lost 2-1 in overtime) and she just completed her first season of Division One college soccer at FIU. 
"I think the biggest thing has been my mentality and thinking about the game in a different way…  I'm thinking ahead," she said in a recent interview. "I'm checking my shoulder. I'm doing all the little things that have allowed me to take my game to another level."
Double trouble 
Playing alongside Adler has also been a boost, Rapp says. The two operate as "dual 10s", acting as the two attacking midfielders supporting the lone striker in Coach Lukic's dynamic, attack-oriented system. The formation often fluctuates between the uncommon 4-5-1 and 3-2-4-1. In the youthful Aurora team, Adler, with her experience playing for professional teams in the U.S., Denmark, and Israel, as well as being a part of the U.S. women's beach soccer team, is seen as a veteran.
Rapp admires Adler's "calmness and control" and has attempted to mirror it in her own play. 
"She's so composed on the ball, and it kind of translated over to me, I'd say…" Rapp remarked about Adler. "And I think that's also why I've been able to improve. I'm not overthinking while I'm playing; I'm just observing and playing… doing what I need to do without overthinking it. And I think she's helped me to be more capable of doing that."
Not "overthinking," she says, has led to quicker and better decisions. "And what's so important in soccer, obviously, is making that decision quickly and executing on it. So knowing I'm going to do this by not being so overwhelmed with all these different thoughts has allowed me to be, 'I'm going to do this and do it quickly.' And if it doesn't work out, that's okay."
Quick on the counter 
Rapp's increased ability to think ahead has also been critical off the ball.
"There are so many things that Cat Rapp does well, but I think the most obvious, the brightest light that she shines in her game is the ability to take the ball and transition, to steal the ball in space and immediately go into a counterattack" explains Matt Privratsky, an Aurora community owner who runs Equal Time Soccer, a website and podcast covering woman's soccer in Minnesota. 
Privratsky shared one example on the Equal Time Soccer Twitter feed. In a game versus the Chicago Dutch Lions, a defender on the left side turns to make a pass to a teammate near the center circle — but Rapp intercepts, motors ahead and in a split second, has passed the defensive midfield is bearing down on a central defender. The defender pedals backward before stepping up to pick up Rapp, leaving Hansen, the striker, wide open. Rapp marks the pass and Hansen scores an easy goal.  
It's a trick Rapp has pulled off a few times this season. "I think as a midfielder, when the ball is coming from wide areas into the middle as a square ball, that's a great time to do it (intercept) because you're breaking lines once you win the ball. The defenders play into the middle, trying to hit their midfielders and you just anticipate that," she said.
While her knack for anticipation has improved this year, it's long been part of her game. She attributes it to all the time she spent in the backyard playing soccer with her father and her sisters — the first opponents she learned to read.
"Anticipating what the players on the opposite team are doing, is really helpful because you can look at people's eyes and they're like body positioning and know that, 'Oh, they're probably going to make that pass there' and just anticipating it and offering that space, so they think the pass is open, but then you jump to get it once you know they're going to pass, and so you intercept it," she explained.  
Running with impact 
Her improved sense of anticipation, timing, and space has impacted another aspect of her game: the runs she makes in and around the box.
"Last year, I was more of a player where I ran off the ball a lot, but I don't think the movement was as efficient or necessary. I was just running to run because as a player, if I feel like I'm standing, I feel like I'm not doing enough," she explained. "...checking my shoulder and having everybody communicate to me where the open spaces are, and actually being able to time the runs with the other players with the ball. I think it's been very crucial because the timing is so important, and knowing actually where the spaces are and not just running to run, but actually running to open up space for myself and for the other players on the team," she said.
Getting over the line 
At 19, Rapp is still a developing talent, with dreams of turning professional one day. However, her immediate focus is on the game scheduled for Thursday.
"I'm hoping that we can win our playoff games, make it to the championship again and hopefully get over the line this time and actually win it. And I'm hoping I can be a big part of that. But if something were to happen, I would just be cheering on the team and doing everything I could to help us win," she said.