Minnesota Aurora: How to watch Aurora vs. Chicago City on July 6
FLINT, Mich. (FOX 9) - The Minnesota Aurora will take on Chicago City SC in the Central Conference semifinals this Thursday in Flint, Michigan — a game you can watch on FOX 9+. 
Thursday's game will mark the third time the Aurora has played Chicago this season. Minnesota beat Chicago twice already, winning by a combined score of 10-1. Aurora won at Chicago City 3-1 on June 11, then completed a regular season sweep last Saturday with a 7-0 victory. Minnesota Aurora FC finished the regular season 12-0, and their 36 points was 11 clear of Chicaco City for the USL-W's Heartland Division title. They are 24-0 over the past two years during the regular season.
Minnesota Aurora's only loss so far in franchise history is to Georgia Tormenta FC in last year's USL-W championship game. 
Minnesota Aurora leads all of USL-W with 60 goals over 12 games, and their goal differential of +56 is also tops in the league. Morris Elite SC scored 54 goals and allowed just five.
Thursday's match is scheduled for 2 p.m. in Flint, Michigan. You can watch it on FOX 9+, as well as streaming live in the player above, on FOX9.com, the FOX 9 app, and the FOX LOCAL connected TV app.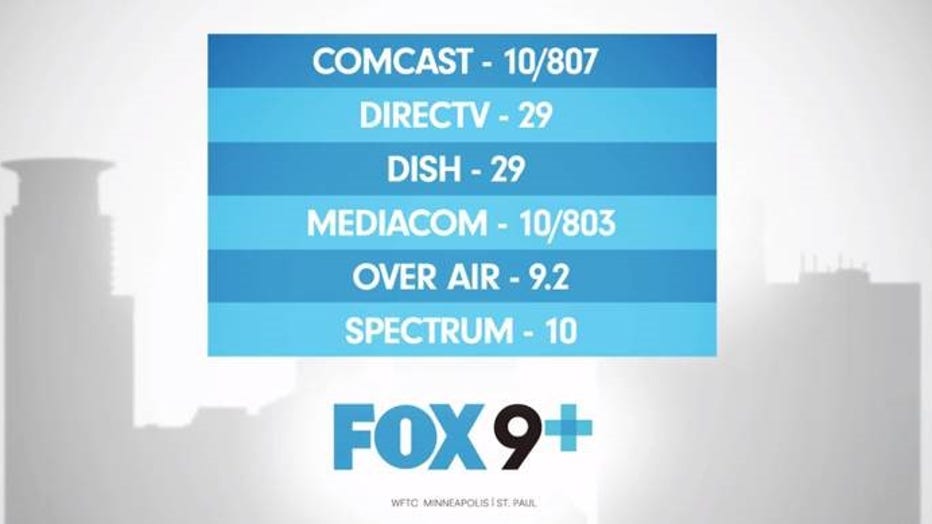 How to watch FOX 9+. (FOX 9)
If Minnesota Aurora FC beats Chicago City SC on Thursday, it would play the winner of Flint City AFC and Indy Eleven in the quarterfinals, which is also the Central Conference title game, at 2 p.m. Saturday at Atwood Stadium. Flint City finished the regular season 9-0-3, and Indy Eleven was 8-1-1.