Minneapolis mosque fires: Arson suspect arrested
MINNEAPOLIS (FOX 9) - A man suspected of setting fire to two mosques in South Minneapolis last week while there will people worshiping inside them is now in federal custody.
Minneapolis Police Chief Minneapolis Police Chief Brian O'Hara said the arrest occurred Saturday night when a dispatcher with the Blue Earth County Sheriff's Department noticed the name of a man they were transporting from a mental health facility matched that of the suspect police were searching for: Jackie Rahm Little. 
O'Hara added that there was "no other known, active threat," to the Muslim community in Minneapolis.  
"This heinous act was an attempt to inflict terror onto our Muslim community. Houses of worship should be safe places. Setting fire to a sacred facility, where families and children gather, is incredibly inhumane. And this level of blatant hatred will not be tolerated in our great city," O'Hara said.
Minneapolis Mayor Jacob Frey described the arrest as a "a great step in the direction towards peace and religious freedom," during a press conference Sunday. 
"We want to make sure that if you visit a place of worship that are meant to be places of peace and are meant to be sacred, that you are not afraid to do so at the same time," he said. 
CAIR-MN Executive Director Jaylani Hussein thanked law enforcement for acting quickly. "
"This arrest brings some relief to our community, which has been on edge for the past week. We hope to learn more about the suspect's motivations and any potential accomplices who may have incited these attacks on our houses of worship," he said in a statement Sunday.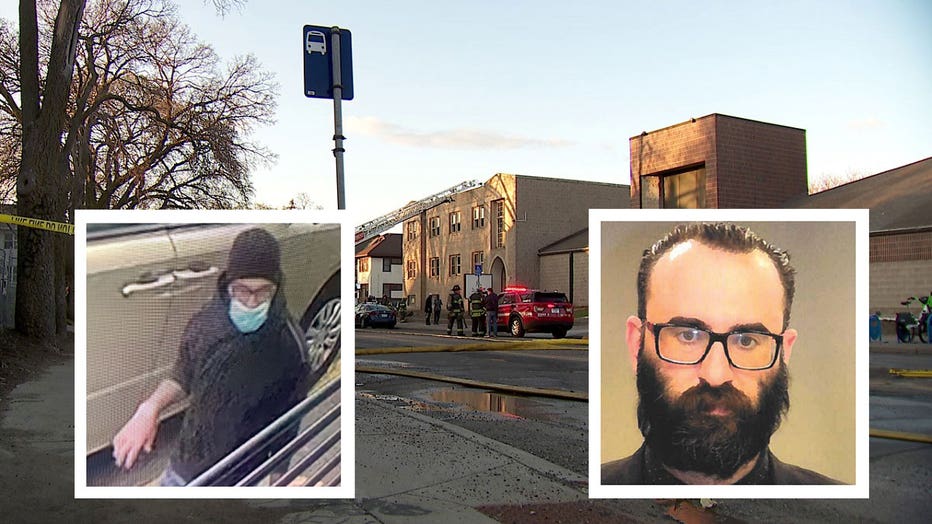 Jackie Little is accused of setting two fires at Minneapolis mosques. (FOX 9)
Two fires about a block apart 
Little, aka Joel Arthur Tueting, is now facing felony arson charges for both fires, which occurred over about a 24-hour period at two mosques about a block apart in the Philips neighborhood. 
According to the criminal complaint filed by United States District Attorney Andrew Luger, investigators believe that on Sunday, April 23 at approximately 7:00 p.m., Little, 36, started a fire in the bathroom of the Masjid Omar Islamic Center. Then, on Monday, April 24,  a security camera filmed Little entering the Masjid Al Rahma Mosque shortly before a fire broke out on the third floor and firefighters evacuated the building. 
According to court records, Little was believed to have been seen on surveillance video at a nearby gas station purchasing a container and filling it with gas the day of the fire. 
Previous vandalism of Rep. Ilhan Omar's office
The criminal complaint also indicates that investigators believe Little was responsible for two other incidents that may have been motivated by anti-Muslim bigotry: vandalism of the Minneapolis office of Congressional Rep. Ilhan Oman, and of the squad car used by a Somali police officer in Minneapolis.
The complaint says that on Dec 30, 2022, Little emailed a Congressional representative an "image depicted a Quran in a toilet being urinated on by a male" and the next day, sent another email with an image of a bloody ear.  Then in January, investigators believe security cameras captured Little spray-painting three locations: the front door of the office of the representative, the squad car of a Somali officer, and the entrance to a strip mall at 912 E 24th Street, which is a well-known community hub called the "Somali Mall."
Omar confirmed in a press release that Little had targeted her office.       
"We are witnessing an epidemic of hate against the Muslim community and other religious minorities in Minnesota and globally right now. This campaign of terror is designed to keep us fearful and divided. As Muslim Americans and as Minnesotans, we will not be terrorized. We will continue to stand united against bigotry because love is stronger than hate," she said. 
Past arson arrest, mental health history
Records show Little has a past arrest for another arson in 2021, along with a history of mental health issues in recent years.
Little was accused of setting a Buick LeSabre outside an apartment building in the late night hours of December 2, 2021. The fire apparently happened after Little was evicted from the apartment building. Like with the mosque fires, it appears a plastic jug and gasoline were involved. He was arrested, and bailed out by the Minnesota Freedom Fund, but ultimately recommitted.
Since April 2021, Little has been committed three times due to mental health issues. In April 2021, he faced commitment after he went missing for several days in Edina.
In December 2021, after the car arson, he was recommitted and then, this past December, he faced recommitment again.
City: No ongoing threat to the Muslim community in Minneapolis 
Minneapolis Public Safety Commissioner Cedric Alexander addressed the arrest during an interview with FOX 9 Sunday morning.
"We have no other reason to believe that there's any other threats that are out there to any of our houses of worship. And certainly, in our Muslim community, no one should feel threatened because of how they practice or where their practice their beliefs," he said.