Minneapolis Mayor, Council President differ on 38th and Chicago reopening process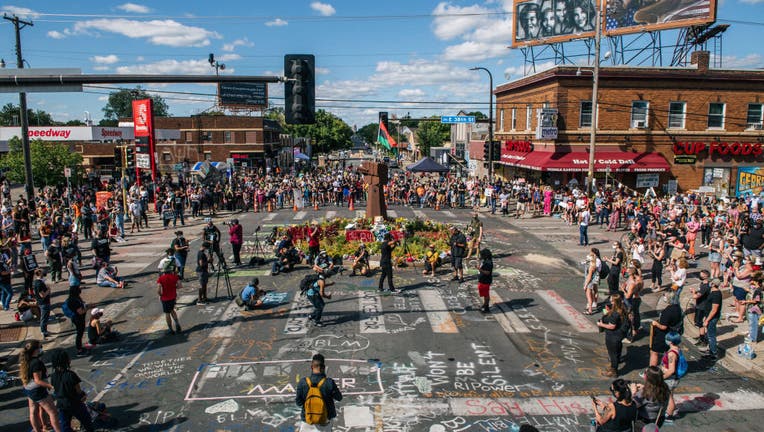 article
MINNEAPOLIS (FOX 9) - Minneapolis Mayor Jacob Frey announced a list of initiatives that he hopes will lead to the reopening of 38th and Chicago, but the city council president says Frey needs to take action now or let the council handle the situation legislatively.
Council President Lisa Bender said it is "well past time" to remove the barriers that block the intersection where George Floyd was killed by Minneapolis Police on Memorial Day, and she says the Mayor has the power to do so.
"If despite having the authority to make a decision about barricades at the intersection of 38th and Chicago, the Mayor refuses to make one, the City Council could begin the process of making a decision using our legislative process," Bender said.
In a statement, Mayor Frey said Bender refused to "engage in good faith conversation around the future of the intersection," and blamed her for presenting the issue as a "mayor or council" issue.
"Avoidable divergence among those entrusted with leading our city could compromise not only our community efforts, but the public's trust in local government," Frey said in a statement. "Let's unite and get this done."
Bender called the Mayor's current proposal and "end-run" around his authority and the City Council's legislative process.
"Either the Mayor uses the authority he already possesses to reopen 38th and Chicago as he sees fit, or the Council begins the normal, public legislative process of making this decision for him," she said. "Either way, it is past time for Mayor Frey to make a decision and it should be one that reflects and includes a commitment to equity, justice and safety."
Among the initiatives the Mayor's office proposed is co-creation of a permanent memorial at the intersection, establishing 38th Street as a cultural district, renaming the area of the intersection as George Perry Floyd Jr. Pace, accelerating street construction in the area, funding anti-racism training for the city, infusing money into BIPOC-owned businesses and more.
In total, Frey's office says the city will commit $10.5 million in eligible local funds to the intersection.
Minneapolis City Attorney Jim Rowader released the following statement about the future of 38th and Chicago, saying no one city department can tackle this issue on its own. 
What happened at 38th and Chicago last May to George Floyd was a tragedy and it deeply affected each and every elected official, department, and citizen in Minneapolis. In short, it has touched our entire Minneapolis community and has spurred all of us to action in order to ensure that such a tragedy does not happen again in our city.
With regard to the future of the intersection of 38th and Chicago and the community surrounding it, everyone in city government needs to play a role given the enormity of this context. The Charter, nor any city ordinance, does not decree that one entity, department, officeholder or staff member has the primary or sole authority to mandate a future for 38th and Chicago. To be more specific, the City's authority over the public right-of-way (ROW) is extensive and broad. Such vast authority is designed to facilitate travel. Without proper authorization (permit), any obstruction of the ROW is illegal. There are several Public Works-ROW ordinances, traffic ordinances, and traffic laws clearly on point. However, given the unique circumstances here, Public Works cannot reasonably be expected to act alone.
In normal practice, the City Council does not specifically authorize or weigh in on each and every exercise of these powers by a City department. That would not be feasible or warranted in normal circumstances. Enforcement activity related to the ROW is conducted all the time at the discretion of several different City departments, including Public Works, Police, Regulatory Services, and City Attorney (criminal prosecution). 
So, while specific authorization from the City Council is not necessary for most enforcement efforts, the situation at 38th & Chicago is anomalous and is clearly unprecedented.  To the extent City action is needed to open and maintain the ROW for its intended purpose (easement in favor of the general public for transit), it will necessarily involve a coordinated effort between multiple departments, including at a minimum, Public Works and Police.  In addition, it will potentially require the assistance and intervention of non-City law enforcement, Public Works, or other similar agency partners, all of which may require City Council approval.  It is also clearly not a police operation alone, such that the City Council can abdicate any responsibility. City code reflects this broadly delegated authority, but also states that the City Council (primarily in terms of its oversight over Public Works as primary stewards of the ROW) are where this power is rooted.  
As a result, when considering the potential consequences of any decision directly affecting the short term and long term future of 38th and Chicago, City department leadership reasonably feel that they must have the full support of the City, including all elected officials and community, before action is taken here. City enterprise support in this context would be reflective of some sort of voiced consensus among elected official leadership on the City Council and by the Mayor.