Judge: Enough evidence for murder trial in UW-Stout death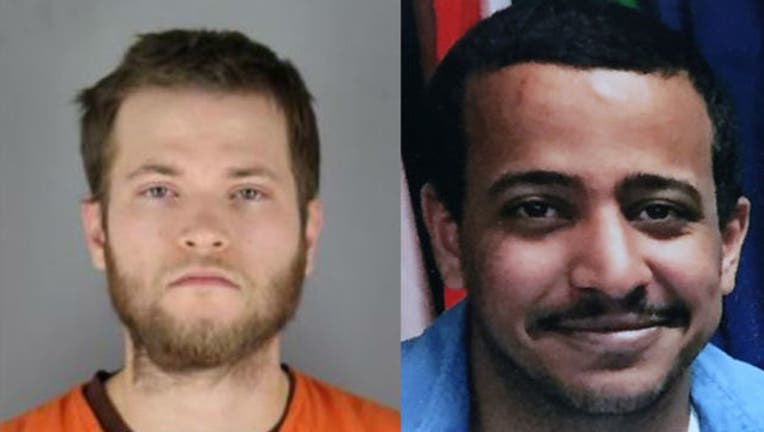 article
MENOMONIE, Wis. (KMSP) - A Dunn County judge has ruled there is enough evidence for a murder trial in the death of University of Wisconsin-Stout student Hussain Alnahdi. Cullen Osburn, 27, of Minneapolis is facing a felony murder charge and a felony battery charge for last October's deadly confrontation in downtown Menomonie.
Alnahdi, 24-year-old junior at UW-Stout from Saudi Arabia studying business administration, was assaulted last October in downtown Menomonie and died in the hospital from his injuries. In November, police identified Osburn as the suspect.
MEMORIAL - Hundreds gather to remember UW-Stout student Hussain Alnahdi
Police said Osburn contacted them on Nov. 2, 2016 and said he was "very scared" and would cooperate. He then stated he would contact authorities the next day because he didn't want to say anything else without a lawyer. Osburn didn't contact authorities the next day and they were unable to locate him. He was eventually arrested during a traffic stop in St. Paul.
According to the criminal complaint, the Menomonie Police Department responded to a fight in front of Toppers Pizza downtown on Oct. 30, 2016 where they found Alnahdi unconscious and bleeding. He was transported to a nearby hospital and was eventually airlifted to Mayo in Eau Claire, but later died of his injuries. According to an autopsy, Alnahdi's cause of death was traumatic brain injury.
"[The medical examiner] said it would have required a great deal of force similar to an automobile accident or fall from a higher story building," testified Kelly Pollack of the Menomonie Police Department.
In court Thursday, Osburn's defense attorney argued he wasn't the aggressor in the deadly altercation.
"No possible way my client assaulted Mr. Alnahdi," defense attorney Christopher Zipko said. "He was out there, Alnahdi came upon him, and then when my client backed up, he was assaulted by the other gentleman."
Alnahdi's roommates told police they had been drinking with Alnahdi at their house that night and he decided to go to the bars. In court Thursday, it was revealed he had a blood alcohol content of .284 when he was killed. The defense team made it clear that Alnahdi's actions and his blood alcohol level will be a central theme as this case unfolds.
The criminal complaint details several witness accounts. One witness, Osburn's sister, whom was inside Toppers said she heard something hit the window and went outside to realize a fight was happening. Osburn told his sister that Alnahdi grabbed the chain around his neck and then he pushed Alnahdi. She also told investigators Osburn contacted her to find out what she told police.
Another witness told investigators when he realized what was happening outside Toppers he went outside. He said Osburn punched Alnahdi twice in the face.
A third witness told investigators he was on his way to Toppers and saw another man (Osburn) approach Alnahdi and began to argue with him. The witness said Alnahdi began arguing back with Osburn. He didn't see Alnahdi get hit, but saw him fall to the ground.
A fourth witness told investigators she was near Toppers at the time of the altercation.  She saw Osburn ask Alnahdi what he just said and then Alnahdi put his hands in the air to indicate he didn't want a problem and then the two were yelling back and forth before Osburn struck Alnahdi.
Osburn fled the scene after the incident.
Osburn's family was sitting right behind him in the front row of the Dunn County courtroom for Thursday's hearing, while the other side of the gallery was packed with Alnahdi's friends and classmates.
Osburn will be arraigned on Thursday, April 27.