Jewish U of M student finds swastika in dorm room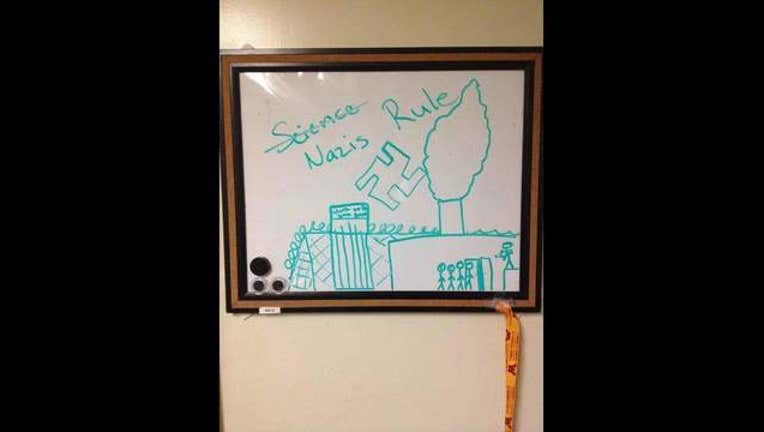 article
MINNEAPOLIS (KMSP) - University of Minnesota officials are investigating after a Jewish student reported a Swastika on the white board in his dorm room.
According to Rabbi Yitzi Seiner, co-director of the Chabad U of M, this is the second anti-Semitic incident in two weeks. A student found a swastika with the words "Nazis Rule" drawn on a whiteboard inside his dorm room. The drawing also depicted a Nazi death camp.
University officials say the incident is part of national trend, which has impacted the campus. Since December, there have been seven reports of anti-Semitic drawings or graffiti. This incident, however, is the first time it was directed at a specific student.
Rabbi Yitzi Seiner says the Chabad has been in touch with the student who was targeted and while he is shaken, he has shown remarkable resilience and reports have been filed with the appropriate authorities.
Statement from Rabbi Yitzi Seiner:
The fact that this sort of hatred exists on our campus is unacceptable, and is obviously a troubling issue that threatens the open dialogue and diversity that makes U of M such a special campus. I was happy to see the faculty's quick, proactive responses to the incidents and have spoken to numerous Jewish students who were looking for ways to combat the issue.
Here at Chabad, we plan to continue to fight hatred by increasing our efforts in spreading Jewish pride and the beauty of our heritage. Although hatred has existed against the Jewish people for generations, we will continue to thrive and grow as a community and as a people. To this end, we will be manning a booth on campus that will be aimed at inspiring people to increase in acts of goodness and kindness. We do this with the knowledge that increased light will overpower the darkness of senseless hatred.
University of Minnesota Bias Response and Referral Network response
The University of Minnesota Bias Response and Referral Network is also tracking these incidents on campus. The organization also released a statement on the incident.
"The University of Minnesota condemns all acts of hate on our campus," read the statement. "We are a community that values respect, inclusion and diversity. We are disturbed by this trend as well as other acts of vandalism and graffiti that have been reported to us over the last months that target people based on race, religion, sexuality, gender identity or immigration status. Hate is not welcome here. As our new campaign says, 'Our differences drive our greatness. We all belong here.'"