INVESTIGATORS: Airport insecurity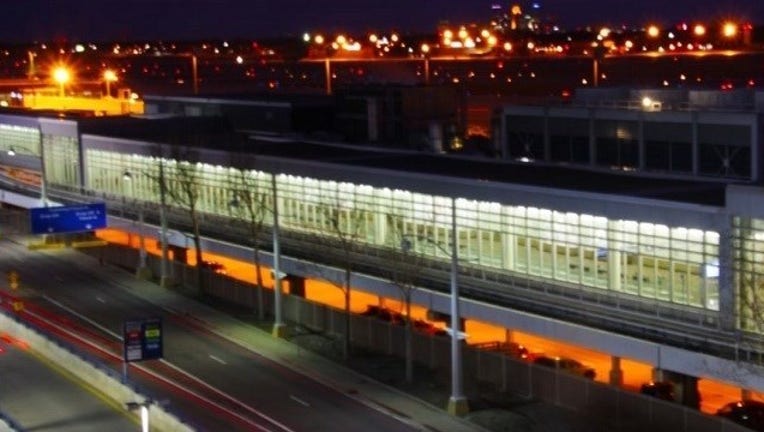 article
The Minneapolis-St. Paul International Airport not only pulls in travelers from around the world, it also lures in workers from around the metro. There are 17,000 employees from 120 countries who keep MSP moving and keep us safe, except for the very few who don't. The Transportation Security Administration (TSA) has identified the "insider threat" as the greatest threat to commercial aviation, and the Fox 9 Investigators uncovered a half-dozen examples of airport workers at MSP who have had their security clearance revoked in recent years.
PROFILES: Insider troubles at MSP Airport
PROFILES: Terror suspects who worked at MSP Airport
Surveillance video shows Sam McGill, who is drunk, going through an employee security gate to work the night shift. He's inebriated airplane fueler who airport police catch when he gets into a hit and run right on the tarmac. He blew a point-2-0, more than twice the legal limit.
There is also the baggage handler police discovered next to a plane with a couple grams of methamphetamine and a glass pipe. And a couple workers have gotten into trouble off duty: One worker convicted of smuggling guns, by boat, to Liberia and the guy who accidentally came through screening as a passenger with a loaded gun in his bag.
David Vang, was a baggage handler who turned the conveyor belt into his own private shopping mall. Airport police watched him for months, as he pilfered checked luggage at his leisure. Detectives even set up hidden cameras in corners where he stashed the items. He then carried them out the employee entrance, and handed the stuff off to his wife waiting in the employee parking lot. When police raided the couples' St. Paul apartment, they were blown away. Vang had ripped off more than a dozen guns and stolen enough i-pads and home electronics to stock a Best Buy, and there was jewelry galore. Total value: $84,000 in stolen goods.
12,000 SIDA badges
There are 12,000 workers at MSP who hold what's known as a SIDA (Secure Identification Display Area) badge. It gives employees unescorted, unlimited, and unsupervised access to the terminal, the airfield, and the planes. The Fox 9 Investigators have learned 154 (1.29%) SIDA badges at MSP are currently unaccounted for, lost or stolen. Airport officials say those badges are quickly deactivated. And that a PIN number is usually required, but not always.
At checkpoint 222, right off the tarmac, a security guard checks the SIDA badge photo ID, gives a cursory inspection around the vehicle, and a glance inside. But employee bags are seldom searched. This, is the same checkpoint where an airplane cleaner, turned whistle blower, caught a guard sleeping. And sources tell Fox 9 during a random security test at gate 222, two workers were allowed through, using someone else's SIDA badge.
Most of those holding SIDA badges at MSP aren't pilots or executives. They're cleaners, and fuelers, and food service workers. The lowest paid workers at the airport. A quarter of them are from East Africa, making on average $8.50 an hour.
Ken Kasprisin is the former head of TSA at MSP, and led the entire agency as TSA's acting administrator. He's convinced the greatest risk isn't a passenger who slips through checkpoint screening, but the insider, someone already working at the airport, behind the scenes. "If you can sidestep that screening process, hence the insider with a SIDA badge or others, than you've side stepped a $7 billion investment from the federal government to address this problem. And it's fairly easy to do," said Ken Kasprisin, former TSA Administrator.
Background check troubles
And TSA's background checks have plenty of troubles, according to Homeland Security's Inspector General. A hiring backlog, meant TSA "temporarily allowed airports to issue badges without the required background check." There are at least five airports, which TSA won't identify, "granted badges to individuals with criminal records." Out of a more than a million SIDA background checks how many had inaccurate or incomplete information? A lot of them apparently. Records show the information is blacked out and redacted. That information was not provided because it was called "security sensitive information".
At MSP, a background check never caught Sam McGill's previous conviction for drunk driving, a year before he became an airplane fueler. And Kasprisin says the standard FBI check isn't updated enough, if ever, at $14.50 a worker, it's seen as cost prohibitive.
But not even a criminal background check would've caught the three men the Fox 9 Investigators exposed last November. They include; an airplane fueler, a cart driver, a coffee shop worker. All three had clean records and held security clearance at MSP. And after leaving their jobs at the airport, all three men were recruited to fight for terror groups overseas, two of the men becoming suicide bombers.
TSA discipline records take over 1 year, 5 months to receive
What is TSA doing about the insider threat? They've repeatedly declined on-camera interviews, usually telling Fox 9 in a statement they have a layered approach to security. Fox 9 asked how many of their employees get into trouble. It took one year and 5 months to get the answer after making a request under the Freedom of Information Act. At MSP over a recent three year period: 13 TSA workers were disciplined for alcohol or drug violations, 10 for disruptive behavior, 27 for security or screening lapses, and 7 for integrity or ethics. It led to 3 terminations, 5 removals or retirements, 5 suspensions, and 37 letters of reprimand. But TSA won't provide the details behind those numbers.

TSA response to aviation security
After two Delta Baggage handlers in Atlanta were caught smuggling guns last year, TSA finally took action last month on the "insider threat."
On April 20, TSA announced they would begin nationwide random screening of airport workers, similar to what passengers go through. Airport access points would also be reduced to the "operational minimum." There will soon be expanded background checks every two years, and perhaps most controversial, monitoring of social media accounts of suspect workers.
The recommendations are based on a report from the Aviation Security Advisory Committee (ASAC). In announcing adoption of many of the recommendations, Homeland Security Secretary Jeh Johnson agreed with ASAC that, "100 percent physical employee screening would not completely eliminate potential risks, but would divert critical resources from other critical security functions to mitigate other risks."
Last week, acting TSA Administrator Melvin Carraway testified before Congress, and the issue of insider threats was discussed.