Howard Lake fire damages historic church, 2 homes
HOWARD LAKE, Minn. (FOX 9) - A large fire in Howard Lake on Sunday spread to at least two homes and a church that was built more than a century ago.
Crews worked through Sunday afternoon to knock down flames along Seventh Avenue. In a Sunday night news conference, Howard Lake Fire Chief Keith Bobrowske said the fire appears to have started in a shed or garage structure behind a home on Seventh Avenue. It spread to two houses and then to St. James Lutheran Church.
Aerial video showed crews working along the block, including two ladder trucks working to extinguish a fire in the church's steeple, which appeared to be the only obvious exterior damage to the church. Chief Bobrowske says it's likely an ember caused the fire that burned the steeple.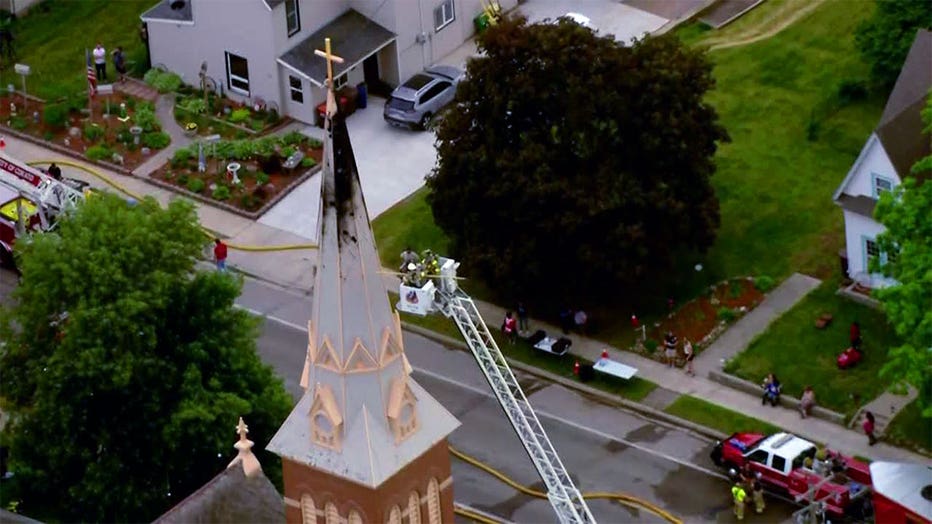 There were no injuries as a result of the fire. Fire crews did rescue some animals from the homes.
Chief Bobrowske says the fact that four separate structures were involved in the fire made the battle difficult since it spread crews out along the block.
The cause of the fire is under investigation.