GUILTY: Jury reaches verdict in murder-for-hire case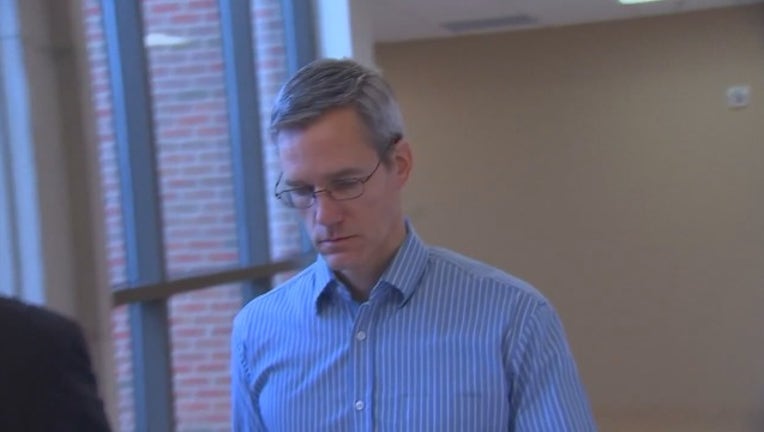 (KMSP) - After six days of testimony, and six hours of deliberations, a Washington County jury has found Stephen Allwine guilty of first-degree murder in the killing of his wife. He's expected to spend the rest of his life in prison.  
Prosecutors say Stephen, 44, shot his wife Amy, 43, on Nov. 13, 2016, in their Cottage Grove home on 110th Avenue. The case was initially handled as a suicide.  
But Cottage Grove Police detectives soon realized the crime scene was staged. Amy's body had been moved, and the handgun was on the left side of her body - even though she was right-handed. Police also discovered there was an attempt to clean-up the crime scene.  
Nine months earlier, the FBI had discovered someone with the handle of "DogdayGod" attempted to hire a hit-man on the so-called Dark Net, on a site called Besa Mafia. The FBI shut down the site, and experts say Besa Mafia was a fraud, and no one was ever killed.
But operators of Besa Mafia had already convinced Stephen Allwine to send $12,000 in untraceable Bitcoin. The FBI discovered the anonymous transaction and alerted the Allwines in February 2016.
Nine months later, Amy Allwine was dead. 
The break in the murder case came when a computer forensics expert, Mark Lanterman, discovered the one-of-a-kind, 34-digit alpha numeric Bitcoin address on Allwine's iPhone and MacBookPro.  
In closing arguments, prosecutors told the jury Stephen killed Amy because he was an elder in his church, and it would be embarrassing to seek a divorce. Evidence revealed Stephen had carried on at least two affairs with women he met on the cheaters site Ashley Madison. 
Over six days of testimony, the court room was filled with supporters from the Allwine church, where Stephen was a deacon and church leader.