From the gridiron to the waffle iron: Justice Alan Page pours heart into making maple syrup
(FOX 9) - Alan Page is known for many things. An NFL MVP and Hall of Famer, as well as a retired Minnesota State Supreme Court justice. But how about maple syrup maker?
For nearly a decade, Page has been pouring his heart into a labor of love. On the shores of Lake Washburn, near Outing, Minnesota, about three hours north of the Twin Cities, a man of many talents and accomplishments has found a place of peace.
"To be in the quiet and solitude and to be able to sit here and watch the sap boil. Who would have thought I would find that not only interesting but mesmerizing," said Justice Alan Page.
Every spring, Page comes to his cabin to indulge in one of his newer interests: making maple syrup.
This season, he tapped 39 maple trees, is collecting their sap, and boiling it into the sweet sticky liquid.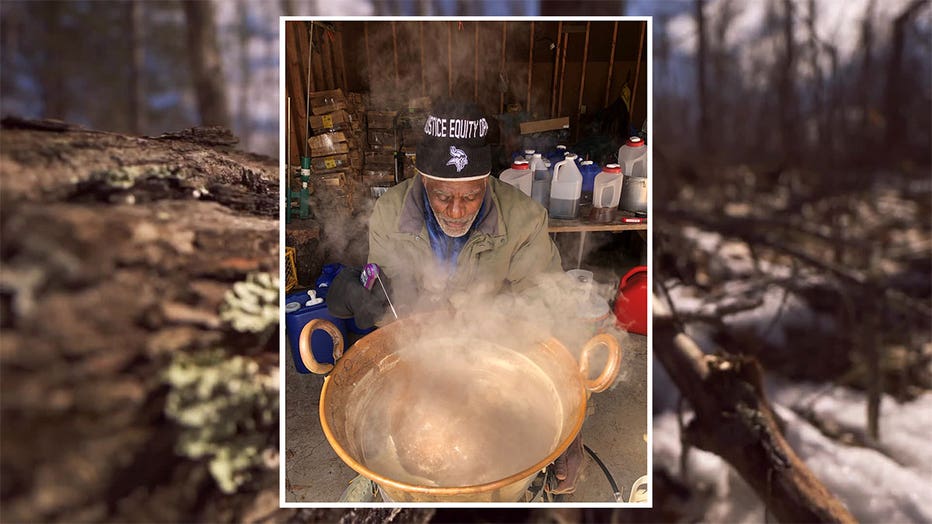 Football player, justice and now syrup maker. Alan Page boils sap for maple syrup/ (FOX 9)
"What is in pots now is the result of close to 60 gallons of sap. By the time I finish it and am ready to bottle it, there will be about a gallon and a half of syrup," said Page.
Page says he started "sugaring" as it's called back in 2014, when his late wife, Diane Sims Page, suggested they give it a try. Every year, they continued their hobby, bottling their finished product and sharing it with family and friends, under the name Pages' Lake Washburn Maple Syrup.
"It was magic for us. We were a team doing this, just as we were with everything," said Page. 
But since Diane passed away in 2018, Page says sometimes his "Sugar Shack" feels more like a fortress of solitude.
"It's about as lonely as it can get. Kids and grandkids come up occasionally to help out, but we had this wonderful routine that she loved, I loved and unfortunately, we don't have that now. But we carry that on in her memory," said Page.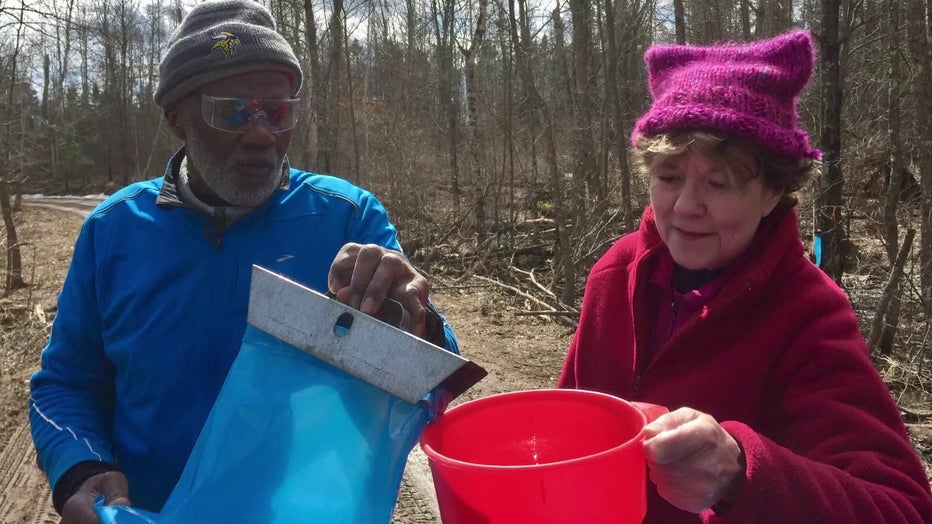 Alan and Diane Sims Page (Supplied)
A few years ago, Page co-wrote a children's book with his daughter Kamie, titled Grandpa Alan's Sugar Shack, based on his experiences with his children and grandchildren.
"It's a great story, isn't it? Grandfather. Granddaughter. Chance to come up and be in the woods together. The granddaughter is learning how to make maple syrup," said Page.
It's probably fitting that someone once known as a "Purple People Eater" would go from the gridiron to the waffle iron.
"I'm a waffle guy. I like it best on waffles. Good stuff," said Page.
But Page says there are some similarities between his past and present pursuits.
"You have to pay attention to detail. You have to be engaged and connected with what you are doing. Even though a lot of this is sitting and watching it boil, you are connected in a way that is not just mindless and fleeting," said Page.
And Page says he'll continue to tap into his wife's legacy for as long as he can.
"I've been fortunate. I had a life partner who taught me a lot. Introduced me to a lot, this being one of them. Certainly but for her I wouldn't be doing this. I'd be sitting at home like a bump on a log," said Page.