Fischbach sued over dual Lt. Gov. and Senate role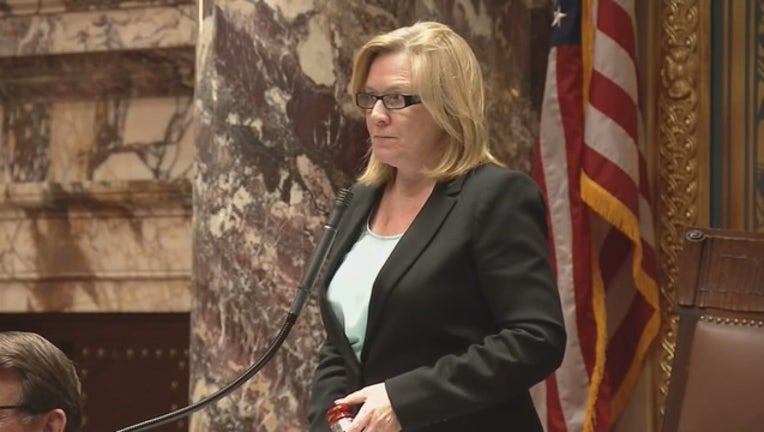 ST. PAUL, Minn. (KMSP) - Minnesota Lt. Gov. Michelle Fischbach is now facing a lawsuit over her intentions to continue serving as a state senator. Fischbach became lieutenant governor following the resignation of Tina Smith, who was appointed as the replacement for U.S. Sen. Al Franken.
The plaintiff in the lawsuit, filed in Ramsey County District, is Destiny Dusosky of Sauk Rapids -- a constituent of Fischbach's Senate district. 
"Plaintiff Destiny Dusosky will be deprived of representation in the Minnesota Senate due to now-Lieutenant Governor Fischbach's attempt to continue to hold the office of state senator for Senate District 13 notwithstanding that she is prohibited from doing so by the Minnesota Constitution, the incompatibility doctrine, and separation of powers," the lawsuit states. 
The lawsuit asks for a judge to declare Fischbach's dual role intentions unconstitutional and to order her to give up her Senate seat.
In a Jan. 3 letter to Gov. Mark Dayton, Fischbach said she will not give up her Senate seat. She also declined the lieutenant governor salary since she plans to stay in the Senate. Fischbach cited a Minnesota Supreme Court ruling from 1898 that allows her hold to hold both positions. 
"My primary focus will continue to be serving the citizens of Senate District 13 in the Minnesota Senate, who elected me to a four-year term," Fischbach said. "I am confident I will be able to handle duties as both State Senator and acting Lieutenant Governor through the remaining months of Gov. Dayton's term," she wrote in a statement. 
But Minnesota Democrats have said changes to the constitution prevent a state legislator from holding another office. The language of the Minnesota Constitution is the first argument laid out by Dusosky's attorney in the lawsuit.
"The Minnesota Constitution further provides that '[n]o senator or representative shall hold any other office under the authority of the United States or the state of Minnesota, except that of postmaster or of notary public.' Minn. Const. Art. IV, § 5. Therefore, upon assuming the office of lieutenant governor, the Minnesota Constitution prohibits Fischbach from holding the office of state senator and continuing to exercise the powers of such office including voting on matters before the Minnesota Senate."
Gov. Dayton sought the advice of Attorney General Lori Swanson on the matter, and Swanson issued an opinion on Dec. 21, 2017 that Fischbach may not continue to hold the office of state senator for Senate District 13.
A surrender of Fischbach's seat in the Senate would be a win for Minnesota Democrats, who would like to cut into the Republican majority in the Senate with a special election.
Lt. Gov. Fischbach statement
"Despite the domino effect started by Sen. Franken's resignation, my responsibilities as a senator have not changed. I will act as Lt. Governor as the Minnesota Constitution requires, but I remain committed to serving the people who elected me to the state senate."
Senate Majority Leader Paul Gazelka statement
"It's disappointing, but not surprising, that Democrats are attempting to force an influential Republican woman out of her duly elected position in the Senate. We offered to resolve this dispute before it started by putting another Democrat in the Lt. Governor position to serve alongside Gov. Dayton. This disappointing lawsuit is simply political maneuvering by Democrats to try to change the outcome of the 2016 election."