Feds not ready to negotiate truce between Minneapolis gangs, but will consider the idea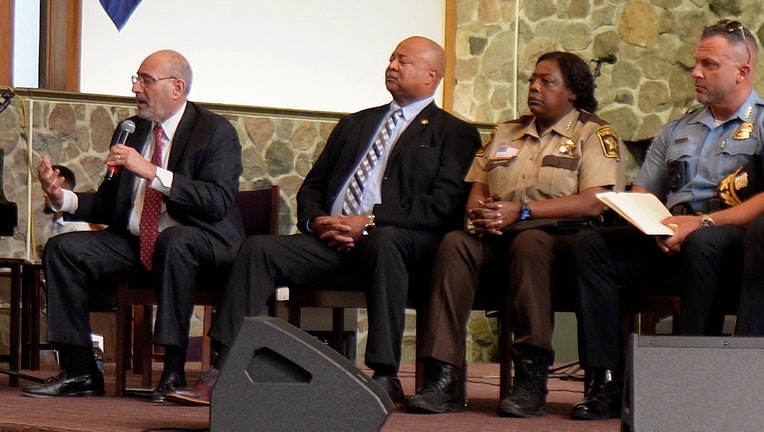 article
MINNEAPOLIS (FOX 9) - The federal prosecutor who led an investigation resulting in the arrest of 45 alleged gang members in Minneapolis earlier this month told a community forum Monday night that he is willing to consider negotiating a truce between the city's gangs — but now is not the time.   
U.S. Attorney Andrew M. Luger made the remarks in response to a question during the "Your Voice Matters" roundtable and discussion at the New Salem Baptist Church in North Minneapolis. 
"We're not there yet. We're not at a point where we can negotiate a truce yet," Lugar told the audience, before adding "I am willing to try anything and I think that's one great idea."
While ruling out negotiations for now, Luger said his office does have direct communication and meetings with suspected gang members. "We want to meet with gang members long before they're charged, and we have been going to let them know what's coming, so they'll stop, and they don't need to be part of this. And I think it's effective," he said at an earlier point in the meeting. 
Other participants in the forum included Minneapolis Police Chief Brian O'Hara, Hennepin County Sheriff Dawanna Witt, U.S. Marshal for the District of Minnesota Eddie Frizell, and representatives from the D.E.A and the A.T.F. 
Gang crackdown 
Law enforcement authorities believe three street gangs are responsible for most of the violent crime in Minneapolis: The Bloods, which are known to be active in South Minneapolis, and the Highs and Lows, whose cliques operate in north Minneapolis on either side of Broadway Avenue. 
The forum was meant to address public questions and concerns following a crackdown on May 3 that targeted two out of three gangs: The Highs and Bloods, with 30 alleged members charged with federal racketeering conspiracy (under the RICCO act) involving alleged murder, attempted murder, robbery, obstruction of justice, and drug trafficking. Separately, 15 other members of the same organizations have been charged in separate cases on drug and gun charges.
"They are responsible for such a great amount of the violence and the shootings and what's been going on over the last few years that is almost unprecedented in our city. So we decided to take it on," Luger said. 
Public concern: Worker bees vs Kingpins  
Luger also addressed questions about how deeply the people arrested were involved in gang activity. Valerie Castile, whose son, Philando Castile, was killed by a police officer in 2016, was one of two people to raise the issue.   
"You know, you have levels of organizations of crime. You got the people that bring the guns into the country, you got the people that bring the guns into the different states, and then you get your little small worker bees. And the people that I've seen look like worker bees. I don't see you all capturing the people that's bringing this mess into our community," she said. 
Luger did not have the opportunity to specifically respond to Castile, but he did address the point she raised while responding to another question. 
"I can assure you that every single person here, that we take our jobs very seriously," he said, referring to the other law enforcement officials on the stage. "We are only looking at people who are heavily involved in the gangs, supporting and promoting the gangs, making sure the gangs succeed. And the number one focus is on the shooters and the murders. So we're going to do more of this."