Biden calls for unity, Trump complains about crowd size cap with dueling Minnesota stops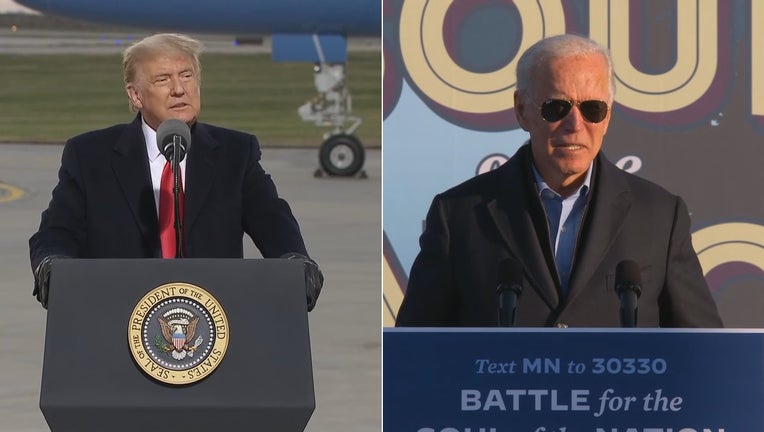 (FOX 9) - President Donald Trump and Democratic challenger Joe Biden outlined dramatically different visions for the country's future Friday in what will likely be their closing arguments in Minnesota ahead of Tuesday's election.
Biden held a late afternoon drive-in rally at the Minnesota state fairgrounds in between rallies in Iowa and Wisconsin, as the Democratic candidate and former vice president makes a push in the Midwest. In a brief, 22-minute speech, Biden said people have had enough of Trump in the midst of a pandemic, recession and racial tension.
"They don't know where it's going, and Donald Trump has simply given up," Biden said in front of supporters honking their horns in about 100 different cars, and honks of pro-Trump protesters outside the fairground gates.
Minutes after Biden's plane departed, Trump's Air Force One landed in Rochester for the president's third stop of the day after campaign events in suburban Detroit and Green Bay, Wisconsin.
Trump said people would want four more years of him, and predicted that he would make history in Minnesota as the first Republican presidential candidate to win here since 1972.
"Four days from now we're going to win the state of Minnesota," Trump declared.
Trump used his closing argument to criticize Minnesota Gov. Tim Walz and Attorney General Keith Ellison, both Democrats.
The president's campaign abruptly switched the event's location twice on Thursday because of disagreements over Minnesota's limits on public gatherings during the coronavirus pandemic. Trump's team ultimately agreed with the city of Rochester to cap the attendance at 250 people.
Hundreds more waited outside, and the president took a brief motorcade ride to greet them. The president was unhappy with the circumstances; he had wanted a crowd of thousands inside the event.
"Your Democrat governor tried to shut down our rally," Trump said, accusing Walz of wanting to "take away your freedoms and your rights."
Teddy Tschann, a spokesman for Walz, responded by email that "Gov. Walz thanks President Trump for finally following public health guidance at a campaign rally."
Biden criticizes pandemic handling
Biden blasted Trump's handling of the coronavirus pandemic that is now spiking across the Midwest, including in Minnesota. The state set a new single-day record with more than 3,000 new cases Friday, and twice this week has reported more than 30 deaths in a day.
"Dr. (Anthony) Fauci called for a mask mandate last week," Biden said, before pointing at the Trump supporters making noise nearby. "This isn't a political statement like those ugly folks over there beeping the horns. This is a patriotic duty for god's sake."
Biden said the violence that broke out after George Floyd's death in Minneapolis "will not be tolerated," but said the nationwide protests were "a cry for justice" amid racial tension.
He called for civility in the country, and said the U.S. needs to "lead again" in the world. He said he would not raise taxes on anyone who makes less than $400,000. It was his second visit since voting began in Minnesota on Sept. 18.
Meanwhile, Trump raised the Minneapolis rioting in a different way, calling the response of city and state leaders "not very good." Trump has made law-and-order a key focus of his candidacy.
The visit was Trump's fourth since August and third since voting began.
Both events come just days before the election and hours after an Eighth Circuit U.S. Court of Appeals ruling put some ballots in question.
Thursday, the three-judge panel ruled 2-1 that all absentee ballots must be in by 8 p.m. on election night to be guaranteed to count. Minnesota election officials must set aside all late-arriving ballots in case a court later allows them to count.
Under a deal struck between Minnesota Secretary of State Steve Simon and two voter groups in state court, ballots arriving up to a week after the election would've counted as long as they were postmarked by Election Day.
Minnesota Democrats rushed Friday to call and text supporters who haven't voted already to bring ballots in or to vote in person, rather than risk mailing their ballots in.
Trump's event shifts
The campaign originally planned to hold a rally at the airport, but Rochester city officials required the event to have fewer than 250 attendees. The Trump campaign then moved the rally to McNeilus Steel in Dodge Center. But it quickly switched back to the Rochester airport, after Ellison asked the Trump campaign for its COVID preparedness plan at the steel company. 
Ellison said Thursday night that he did not get a response from the campaign.
"We did not cancel this event: indeed, we have no authority to cancel events and have never cancelled an event," Ellison said in an emailed statement.
The Republican National Committee filed a COVID preparedness plan for Trump's event at Rochester's airport, according to a document provided to FOX 9 by Rochester city officials. 
The RNC agreed to pay $16,000 to rent the venue and to keep the crowd size under 250 people, according to a signed contract.
John Stiles, a spokesman for Ellison, said the attorney general's office had also received a COVID preparedness plan from the Biden campaign for the state fairgrounds event, but was legally barred from releasing such documents. Sam Michel, a spokesman for the Biden campaign, did not respond to a request for the document.
A spokesman for the University of Minnesota, which leases the parking area where Biden's event happened, did not immediately provide the facility use contract between the school and Biden's campaign.