Daunte Wright death: Son to get majority of $3.5M settlement
BROOKLYN CENTER, Minn. (FOX 9) - The son of Daunte Wright, the man shot and killed in 2021 by a Brooklyn Center police officer, is set to receive the lion's share of a multi-million dollar settlement from the City of Brooklyn Center as a judge slashed attorneys fees as part of her order issued Wednesday.
The city and Daunte Wright's family reached the $3.25 million agreement last June.
The distribution has been under scrutiny since that time, with Chyna Whitaker, the former partner of Daunte Wright and the mother of his son Daunte Wright Jr., raising concerns about how the money would be distributed.
Judge criticizes attorney fees
Under the initially proposed distribution drawn up by the trustee last year, Daunte Wright Jr. would have received $1.3 million, a little over a third of the total settlement but 61 percent of the funds left over after legal fees.
But, in a distribution order issued on Wednesday, the judge blasted attorneys for an "unreasonable" contingency fee.
Judge Bridget Sullivan writes that the Wright family attorneys initially sought a whopping 40 percent of the settlement money before dropping the figure down to 33 percent – which is a more typical fee for settlement cases in Minnesota.
But, in her order, the judge said this case wasn't complex. In fact, she indicates the settlement process was pretty straightforward.
"No legal action was ever initiated, no depositions were taken, and discovery requests were ever served. In addition, the City of Brooklyn Center clearly indicated it wanted to settle the case less than two months after Wright's death… the attorneys spent relatively few hours studying the legal issues which would have arisen in litigation; and the attorneys spent very little time, perhaps as few as fifteen hours, in communicating with the City of Brooklyn Center's attorney, preparing for settlement discussions, and engaging in direct face-to-face negotiations," the judge writes.
On top of that, Judge Sullivan argued the retainer splitting agreement between the family's attorneys, including Newmark Storms Dworak, Romanucci and Blandin, and Ben Crump Law, was "unenforceable".
In her order, the judge reduced the attorney's fee to a total of 15 percent, with all of that going to Newmark Storms, Dworak, stating that the firm, "unlike the other two law firms, accepted full responsibility for the case during its duration and devoted substantial time to the case." Separately, the judge did grant a $56,000 payment to the Romanucci firm.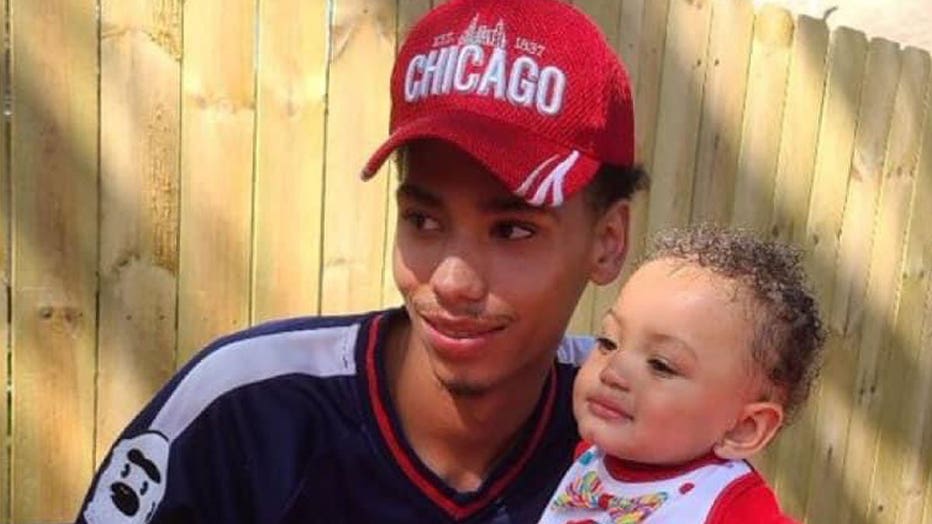 Daunte Wright (Daunte Wright family)
Judge alludes to animosity between Whitaker and Wright family
In a summary of the case, Judge Sullivan also discussed tensions between Whitaker and Wright's family that extended to the settlement.
Stating there is "profound animosity between Wright's family and Whitaker" the judge referenced an altercation following the sentencing of Kim Potter, the officer who killed Wright, between Whitaker and Wright's sister.
"Whitaker was physically assaulted by Wright's sister, Diamond Wright at the Hennepin County Government Center at the sentencing for Kimberley Potter," the judge explains. "Diamond Wright was charged with assault on June 15, 2022, and later pled guilty to Fifth-Degree Assault."
The judge also references another incident where Whitaker says Wright's father Arbuey tried to "forcibly remove Daunte Jr. from her arms."
The judge also points to the fight over GoFundMe money raised in the weeks after Wright's killing.
Questions over GoFundMe money
In a lawsuit last fall, Whitaker said Daunte Wright Jr. had seen none of the GoFundMe money that had been raised after Wright's killing at the hands of Brooklyn Center police.
Whitaker said that she was promised half of the more than $1 million raised online would go to her to help her support her son. According to the lawsuit, the fundraiser was reportedly initially created for Daunte Wright Jr. but the language on the listing was later changed to remove the reference to the child.
"When you make a promise of 50% of the proceeds, you engage the public to rely on that promise and give you money," Whitaker's attorney Lee Hutton told FOX 9 at the time. "For that money to not go to that one purpose…that's disturbing on many levels."
Final distribution of settlement money
With attorney fees cut down, the judge issued the final settlement distribution, giving Daunte Wright Jr. more than $2 million and Daunte Wright Sr.'s mother and father, $255,000 and $155,000 respectively.
The distribution breaks down as follows:
Daunte Wright Jr.: $2,021,267.00 (child)
Katie Bryant: $255,000.00 (mother)
Arbuey Wright: $155,000.00 (father)
Damik Bryant: $50,000.00 (half-brother)
Dallas Bryant: $50,000.00 (half-brother)
Diamond Wright: $50,000.00 (sister)
Destinee Wright: $50,000.00 (sister)
Monica Wright: $20,000.00 (half-sister)
Marcus Wright: $20,000.00 (half-brother)
Along with that, the judge awarded attorney fees to the Newmark Storms Dworak law firm ($487,500) and the Romanucci & Blandin law firm ($56,233), with nothing awarded to Ben Crump Law. A trustee is also slated to receive $35,000.
Response from attorneys
In an emailed statement to FOX 9, attorneys from Newmark Storms Dworak responded to the court order writing: "Newmark Storms Dworak is proud of the work performed by the legal team in achieving a historic result for the entire Wright family.   The Court's Order reflects a fundamental misunderstanding of the dynamics of nationally important civil rights cases, and contingency fee cases, and only serves to deter skilled lawyers from putting their resources and energy into fighting for families in need.  We will continue that fight for Minnesota families harmed by powerful wrongdoers.    The vast majority of the settlement proceeds will go to Daunte Jr, which everyone has always agreed is the correct result."
In a separate statement, Antonio Romanucci also addressed the order, which included the judge questioning whether Romanucci and Blandin were authorized to work in Minnesota, writing:
"The judge in today's ruling indeed pointed out the good work our legal team does across the country. The issue in today's ruling was simple, and pertained to our firm practicing in Minnesota as an out-of-state firm, but because this settled prior to litigation being filed we believe that distinction is not material, as we worked with Minnesota co-counsel. We intend to appeal this ruling on that basis. I take tremendous pride in my work, and for those results obtained across the country on behalf of those who have been harmed or killed due to abuses of those in authority, including law enforcement officers who have sworn to protect and serve their communities. I will continue to go where I am needed and remain an advocate for justice and to fiercely fight for what is right, as my core beliefs are to litigate on behalf of those who can no longer speak for themselves and serve the underrepresented in their pursuit of righteousness."