Bloomington attorney hits back after Black Lives Matter alleges impropriety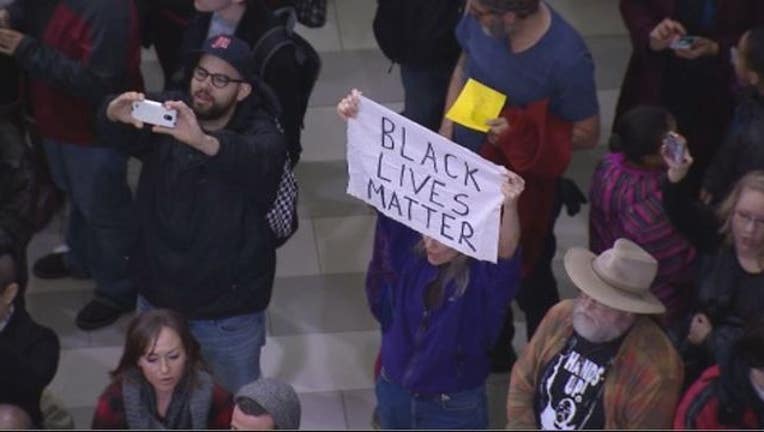 article
Backstory --Charges: Officers infiltrated Black Lives Matter meeting, were spit on by MOA protesters

In response to that message, Johnson wrote, "I agree that you need to have consequences, but MOA may wish to await the criminal charges."

"It's the prosecution's job to be the enforcer and MOA needs to continue to put on a positive, safe face," she continued. "The City's prosecution team is taking this very seriously. I do not usually posture in the media, but I want to deter future criminal activity."

Allen's response: "Agree -- we would defer any civil action depending on how the criminal charges play out. I think there's just a concern that this is our third year in a row and our efforts this year were ineffective in shutting it down."

Asked how unusual coordination of that sort is, Nekima Levy-Pounds, a University of St. Thomas law professor who is also one of the Black Lives Matter demonstrators charged in connection with the incident, tells Fox 9, "This does happen on occasion, but the problem has to do with the way the city attorney is using her discretion -- on one hand claiming to be focused on the best interest of the people while on the other taking extraordinary steps on behalf of the largest mall in America, taking instructions from an outside organization and letting that play a role in her decision making."

In a release, Levy-Pounds, recipient of one of Minnesota Lawyer's 2014 Attorneys of the Year awards, adds, "The Mall of America is a foreign-owned private entity that has no business influencing our judicial system or how the City of Bloomington spends public resources."

"This political prosecution at the behest of the largest mall in the U.S. is a clear attempt to silence peaceful activists asserting the value of Black lives, which sets a dangerous precedent for democracy and free speech everywhere," she says.

But Johnson argues Black Lives Matter's allegations are an attempt to manufacture controversy.

"The communication was no different in length or depth or in any respect than communication I have with any crime victim where a crime happens on their property," she tells Fox 9. "I'm reading this [release] -- honestly, the conclusion they're attempting to draw from those emails is preposterous."

"With respect to the MOA getting special treatment -- it's the biggest thing in town, but it doesn't get special treatment," Johnson adds, adding that the only MOA official she corresponded with before charges were filed was Allen. "We treat them like anybody else, but we do respect their size."

Levy-Pounds and the other Black Lives Matter defendants will be in court tomorrow to enter pleas. Levy-Pounds says she can't speak for others, but plans to plead not guilty.

Johnson, for her part, says that with all the media attention the case has generated, she's worried it'll be difficult to find impartial jurors.