AG's office investigating Shakopee doggie daycare after lost dog prompts other complaints
SHAKOPEE, Minn. (FOX 9) - A Shakopee doggie daycare and boarding facility is under fire after one lost pet led to a series of other complaints.
Doggie Doo's Spa and Retreat owner admits they messed up when 2-year-old George disappeared a month ago but says they've improved their protocols and they deny any of the other complaints. However, the Minnesota Attorney General's Office is looking into Doggie Doo's after the additional reported incidents. 
George's owner Cory Geis said he was a perfect match for his roommate Bella. Geis dropped them both off at Doggie Doo's Spa and Retreat for a two-hour trial visit in late February. When he came back, the employees couldn't find George.
"I was pretty upset," says the Chaska man who adopted both dogs from Golden Valley Humane Society. "I wasn't saying much. Just couldn't believe that it was actually happening. That something like this occurred at a place that was supposed to care for dogs."
Doggie Doo's owner Starla Tyree says one of her young employees put the two dogs outside to prepare for a meet-and-greet with some of the other dogs staying there. But she says nobody had eyes on George when the door opened.
"A kid opened it up, let the dogs out and the dogs come running and barking and George flew over the fence," Tyree said.
George was a lean 45 pounds and springy, but Geis says the pit terrier never tried to jump a fence before. He's even more upset the doggie daycare didn't even know his dog was gone for 90 minutes.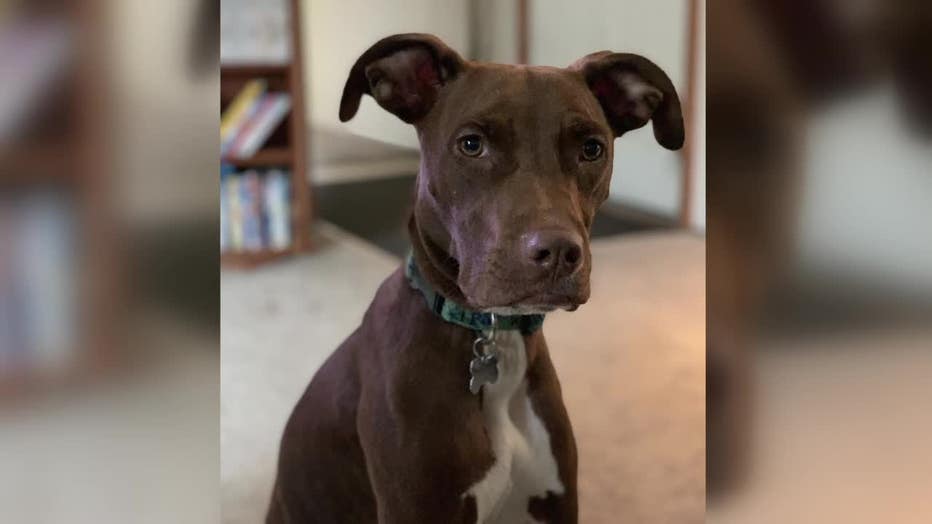 2-year-old George disappeared a month ago at Doggie Doo's Spa and Retreat and still has not been found. 
One former Doggie Doo's employee says the employees are sometimes just overwhelmed by the large number of dogs allowed to stay there.
"Nope, there's no limit," said Marisa Worrell.
Worrell says she was bitten twice when dogs couldn't be controlled.
Kristina Kupietz says late last year, her lab mix Palo came home from Doggie Doo's spooked and licking his leg. She eventually found a puncture wound and Palo needed surgery, which the vet said resulted from a dog bite.
"Palo is a 1-year-old lab mix," said Kupietz of Shakopee. "I really love him, and it was really scary for me," she said.
Both Kupietz and Geis say they didn't get satisfactory answers from Doggie Doo's owners, so they complained to the state attorney general's office. Doggie Doo's owners told AG investigators Palo might've been bitten somewhere else — which Kupietz says is impossible.
The doggie daycare owners dismissed Worrell's complaint as coming from a disgruntled former employee. And they said they're making changes to try and prevent another runaway dog.
"We've added more cameras," Tyree said. "We've had meetings with employees to communicate more, make sure everybody knows when we bring dogs in. And we've ordered air tags. And then we are putting an eight-foot fence up."
Geis says he still has some hope that George will come home; that he's just at someone's house until they see a story like this one.