88 percent of Minnesota in moderate drought, jump from 5 percent last week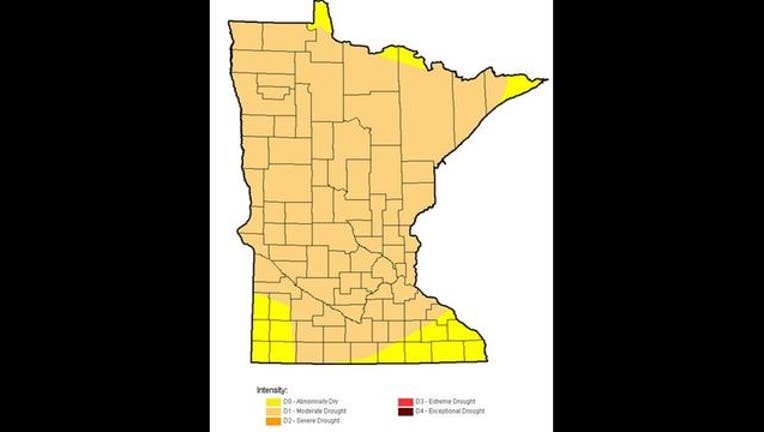 article
The U.S. Drought Monitor is showing that over 88 percent of Minnesota is currently in a "moderate drought," which is a huge jump from just 5 percent last week.
"The lack of snow for the winter of 2014-15 and the continued dry weather has slowly built up precipitation deficits of three to four inches across the state since October 1, 2014," the National Drought Mitigation Center, said.
Small areas of "abnormally dry" can be seen on the drought map in the southeast, southwest and along the Canadian Border in Minnesota.
According to the Minnesota Agricultural Statistics Service, topic moisture across 20 percent of the landscape was rated as "short" or "very short" in late autumn.
When a serious drought occurs, soil moisture reserves, groundwater supplies, lake levels and stream flows are negatively impacted, the Minnesota DNR said. "Water-dependent industries including agriculture, public utilities, forestry, and tourism are profoundly affected."
The DNR has expressed concern about a high fire danger across much of Minnesota due to the relative lack of snow this winter which has left grasses drier and more likely to burn. Officials are bracing for an early start to the fire season given that most of snow cover is gone, with little precipitation in sight.