Josh Guimond's disappearance: Investigation ongoing after 21 years
STEARNS COUNTY (FOX 9) - St. John's University student Joshua Guimond left a party on Nov. 9, 2002, and was never seen again. But, the Stearns County Sheriff's Office said the investigation into his disappearance remains active decades later. 
Thursday marks 21 years since Guimond was last seen attending a small party on campus with friends in Collegeville, Minnesota. People at the gathering noted Guimond had gotten up and left around midnight without saying anything. It was the last time anyone saw him.
Friends realized something was amiss when he failed to show up for a mock trial debate the following afternoon, and loved ones added it was unusual for Guimond to not be in contact. 
Law enforcement searched the campus with the assistance of K9s, while the National Guard combed the terrain. The Minnesota Bureau of Criminal Apprehension said his car was located on campus, but Guimond was nowhere to be found. 
Ahead of the 20th anniversary of Guimond's disappearance, the popular Netflix series "Unsolved Mysteries" aired an episode featuring new details about the investigation and explored several theories as to why the 20-year-old essentially vanished into thin air.
Around the same time, the Stearns County Sheriff's Office released a collage featuring the pictures of 28 unidentified men that were found on Guimond's computer. Investigators believed these people could have information about his disappearance and asked the public's help identifying them.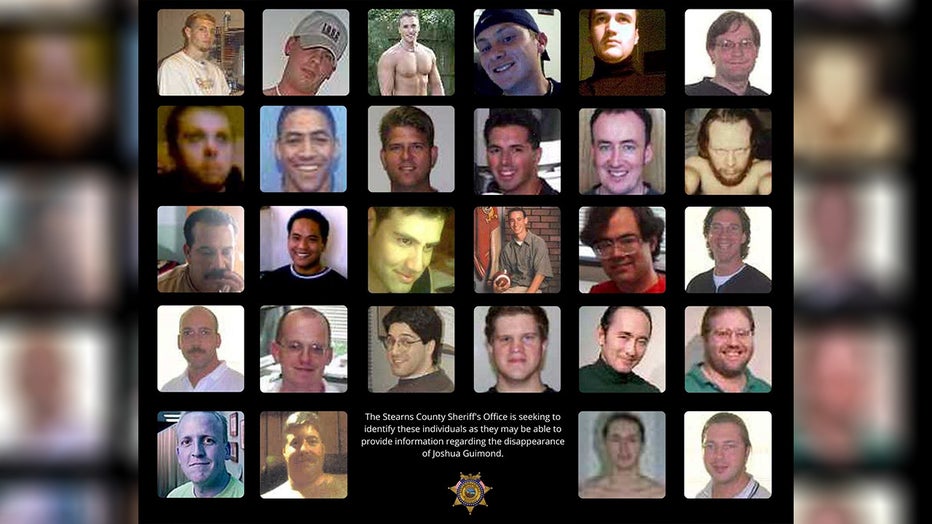 The Stearns County Sheriff's Office is asking for help identifying the 28 people in this photo as they may have information about the disappearance of Joshua Guimond. (Photo credit Stearns County Sheriff Office)
The sheriff's office said the developments in the case brought in several new tips, which investigators followed up on. But, investigators are once again asking for anyone with information about Guimond's disappearance to come forward.
"The investigation into Joshua's disappearance continues to be an active investigation for the Stearns County Sheriff's Office," the agency posted on its Facebook Thursday.
Guimond is described as being 6-foot-tall, weighing 176 pounds, and having blonde hair. He was last seen wearing blue jeans and a gray St. John's sweatshirt. 
Anyone with information regarding the case is encouraged to contact Investigator Andy Struffert at 320-259-3737, Lieutenant Zach Sorenson at 320-259-3732, or submit an online tip here.