2 charged for robbing tattoo party at Minneapolis apartment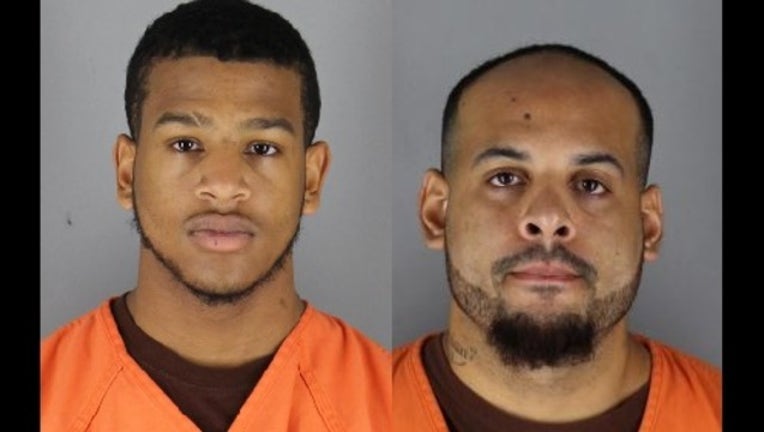 article
MINNEAPOLIS (KMSP) - Two men have been charged with robbery, burglary and assault for breaking into a Minneapolis apartment during a tattoo party and holding seven people hostage for several hours. 
The robbery took place on Dec. 29 at an apartment on the 200 block of East Lake Street, near the Interstate 35W exit. According to the charges, the victims had gone to the apartment that evening for a tattoo party and had large amounts of cash with them to pay for their tattoos. 
At 10:30 p.m., a group of people in masks reportedly kicked open the door and entered the apartment, taking three attendees hostage. The suspects tied the victims' feet together with shoelaces and pepper sprayed their faces. They stole cash, cell phones and ID cards from the victims. 
Two more people arrived at the apartment for the tattoo party at 11:30 p.m. The suspects threw them to the floor, kicked and punched them and then tied them up as well.
The suspects stole $5,600 in cash from one of the victims, who was carrying a large amount of cash because he tried to purchase a car earlier in the day. 
Two more tattoo party attendees arrived at the apartment at 2:15 a.m. A woman entered first and the suspects threw her to the floor and beat her. The other attendee fled down the hallway, but the suspects chased him and beat him in the hallway. 
The suspects then fled with the stolen cell phones, cash and ID cards. 
Two of the suspects have been identified as Andre Zerahn, 26, and Larell Grayson, 18, of Oakdale. Police identified Zerahn after attempting to sell one of the stolen cell phones on Snapchat. One of the victims recognized both men as people he knew. 
Grayson told investigators the plan was to rob the people inside the apartment because the tattoo party attendees would be carrying cash. Two of the robbers had guns.  
Both men are charged with two counts of first-degree aggravated robbery, two counts of burglary and five counts of kidnapping. They are currently in custody.