Still haven't hit 80: Running behind our spring milestones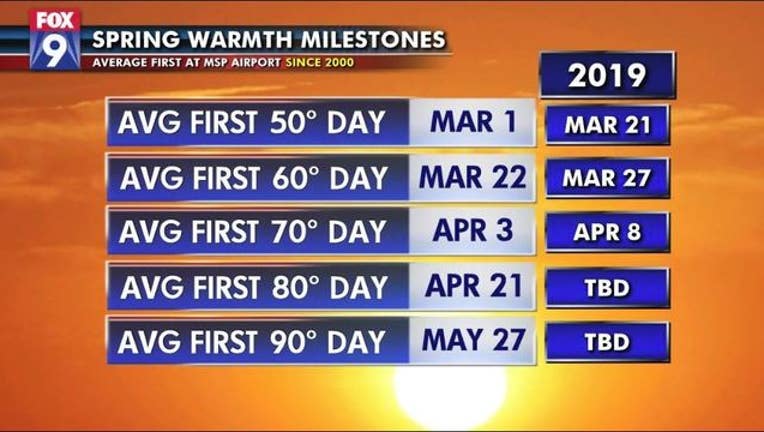 article
MINNEAPOLIS (FOX 9) - No doubt you've noticed that the first couple weeks of May have been quite cool, running roughly 7 degrees below average in the Twin Cities metro, which is a pretty big number. But amazingly enough, the last couple months really haven't been all that cool. In fact, we have been pretty close to average. 
Likely though, what makes it feel like it's been so cool is that we have grown accustomed to some brief surges of spring, or even summertime warmth through the months of March, April, and May over the last 20 years.
Since 2000, we have managed to crack 50 degrees for the first time around March 1, on average. Well this year, that didn't happen for three additional weeks… finally reaching the fifties on March 21. 
Now, the following couple of milestones happened a bit faster with the first 60s coming 5 days later and the inaugural 70-degree day showing up less than 2 weeks after that. Both were about 5 days later than average but still pretty close.
Now though, we are into the middle of May and have yet to hit the 80-degree mark for the first time in 2019. We are now 3 weeks behind that milestone and still going. While this is late, and a bit unusual, we have certainly seen it before. Just 2 years ago in fact, it took until the 13th of May to get to 80 degrees. A few years before that in 2014, we didn't crack 80 until May 24th.
For those looking to finally break into some summertime warmth, good news! Looks like we have a pretty good shot at some 80s before the end of the workweek!