Minnesota weather: Temperatures plunge with dangerous windchills
MINNEAPOLIS (FOX 9) - Temperatures will fall on Thursday, with the windchill becoming dangerously cold.
The colder air arrives Thursday, with northwest breezes becoming gusty by mid-morning. This will shove temperatures down into single digits in the afternoon with a windchill below zero, making it feel like 25-35 below zero by Thursday evening to Thursday night for much of the state, and even colder windchill across northeastern Minnesota.
The actual air temperature Thursday night into Friday morning could fall to the mid-teens below zero across the Twin Cities and much of southern Minnesota. Colder air temperatures are likely in northern Minnesota, where it could be lower than 30 below zero near the Canadian border.
The air temperature high on Friday will be around 2 degrees for the Twin Cities, and around zero degrees elsewhere in Minnesota.
The cold snap will be quite brief, only lasting about 24-36 hours. It'll be warmer this weekend, with a mild day on Saturday with a high of 31 degrees. Sunday will stay above average, with a high of around 32 degrees. 
The mild temperatures continue into next week. Here's the seven-day forecast: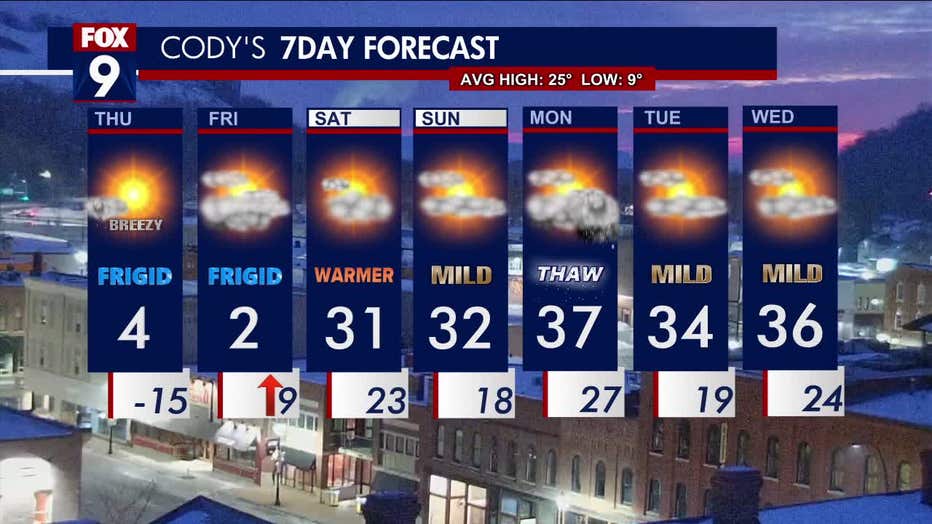 The seven-day forecast features a February warm-up.