Minnesota weather: Rain, snow possible Tuesday-Wednesday
MINNEAPOLIS (FOX 9) - A quiet day on Monday, with highs in the mid-40s for the Twin Cities metro. Then comes the precipitation. 
A rain-snow mix is possible Tuesday morning, while snow is expected in western Minnesota. Throughout the day, the Twin Cities will see rain, but the precipitation will continue as snow for much of northern and western Minnesota — a winter storm watch is in effect but could become a winter storm warning or blizzard warning.
Isolated thunder is possible into Tuesday afternoon and evening with this round of wet weather. The high on Tuesday for the Twin Cities is around 42 degrees.
The precipitation will end as wet snowflakes or a wintry mix on Wednesday for the Twin Cities, and all snow for northwestern Minnesota. The high on Wednesday will be around 38 degrees in the Twin Cities.
Temperatures will stay chilly into Thursday when the high will be 36 degrees with plenty of sunshine.
Friday should be pleasant, with a high of 49 degrees. This weekend is looking warm, with highs in the upper 50s. 
Here's the seven-day forecast: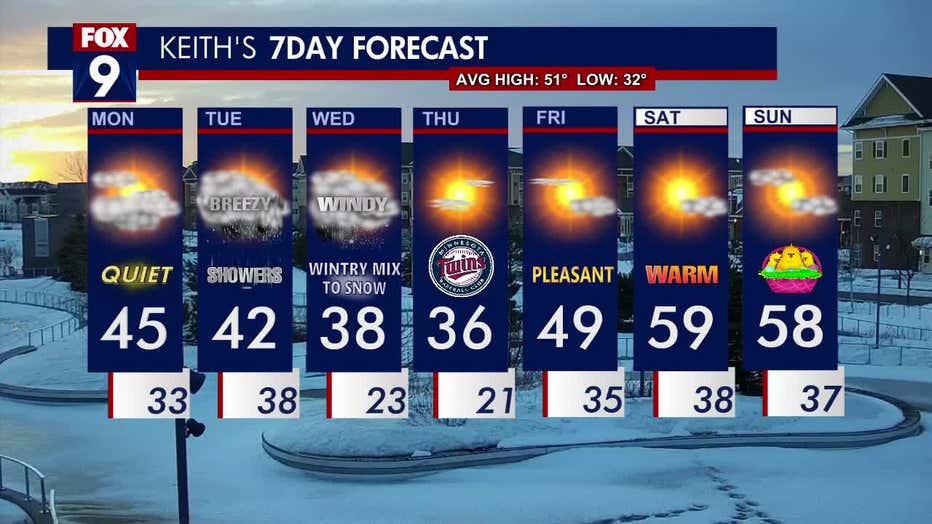 The seven-day forecast. (FOX 9)