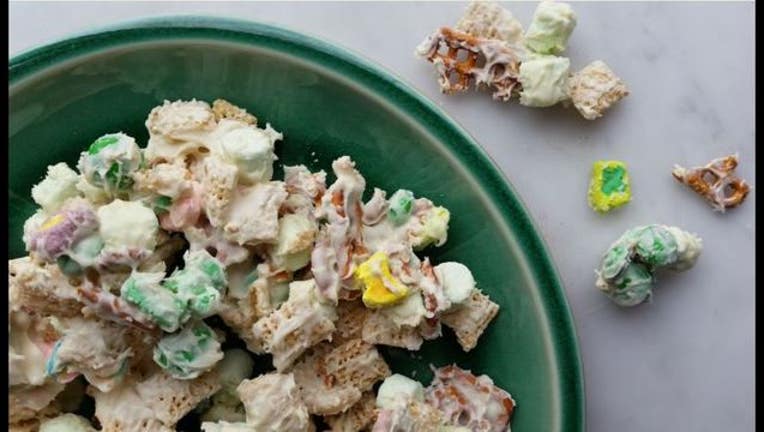 article
You have to be pretty sneaky to catch a leprechaun, which is why I recommend this Leprechaun Bait. It's a special concoction filled with all of things a leprechaun loves, so you are sure to snare his pot of gold for yourself!
Ingredients
All the green M&M's from a medium bag of pretzel M&M's
All the green M&M's from a medium bag of regular M&M's
All the green marshmallows from a 10 oz. bah of Jet-Puffed FunMallows
1/2 c. marshmallows from a box of Lucky Charms
2 c. vanilla Chex
1 c. Snyder's Butter Snaps, broken
1 - 11 oz. bag white chocolate chips

Directions
Combine everything except the chocolate chips into a bowl, stirring around to combine.
Melt chocolate chips in a double boiler, watching carefully since white chocolate is a bit more sensitive. When melted, pour over mixture and stir to combine. Spread out on a Silpat-lined, half-sheet pan and let completely cool. Break apart and set into a bowl - then set your leprechaun trap!